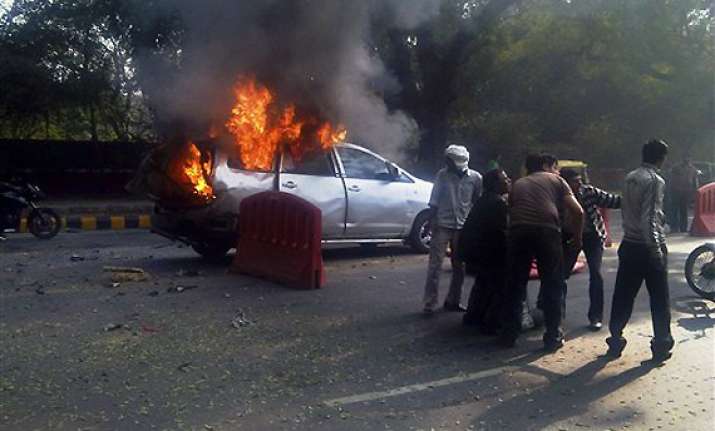 New Delhi, Feb 13: A magnetic device was apparently stuck on the rear of the Israeli Embassy car, which exploded here today, and the blast could have been triggered with a remote control device, Delhi Police Commissioner B K Gupta said.

He said the Special Cell of Delhi Police has been given the responsibility to probe the incident, he said.

He quoted an eyewitness and said a magnetic device was stuck on the rear of the car near Aurangzeb Road crossing by a persib riding a motorcycle, following which a minor blast took place after the car moved a few metres and then it caught fire.

"It was some kind of a magnetic device which was used to target the car.

He said three persons were injured in the incident and forensic teams are collecting samples of the explosives from the spot.

Gupta said the woman from Israeli Embassy, who sustained injuries in the blast, was stable.

Sources said it did not appear that a timer was used to trigger the explosion and instead a remote control could have been used.

They said the attack did not appear to be a handiwork of a local gang.

Gupta said the incident took place at 3:16 pm on the Aurangazeb Road near Safdurjung Road crossing.

"Talyesshoba (42), the wife of Israeli Defence Attache, was on her way to pick up her two children from American Embassy school when the incident took place," he said.

According to the version provided by one of the eye-witnesses who was injured, Gupta said a motorcyclist stuck something on the rear of the the car and after that there was fire in the car.

"We do not know what is the chemical used. The CFSL is examining it," he said adding there was no shrapnel.

Besides Talyesshoba, three persons—Manoj Sharma (42), Arun Sharma (61) and Manjit Singh (78) -- were injured in the incident. Arun and Manjit were in another car.

Talyesshoba suffered injuries on her back while the others had minor injuries on their faces. "Talyesshoba is stable, she is conscious. We are yet to record her statement," she said.

Asked about the attacker, Gupta said he was wearing a red helmet and a brown jacket.