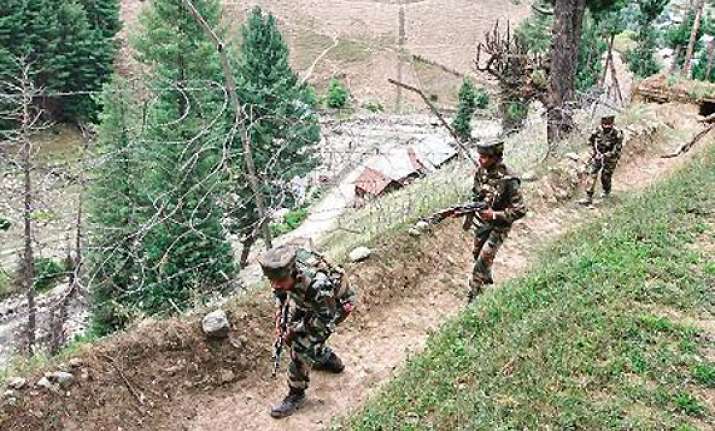 New Delhi/Jammu/Islamabad, Aug 7: Top military commanders of India and Pakistan on Wednesday spoke on hotline to reduce tensions along the Line of Control (LoC), even as the bodies of the five martyrs left Jammu for their respective hometowns.
Army Chief Gen Bikram Singh was present to offer last honours to the five martyrs at Jammu airport. His scheduled visit to Poonch was called off because of bad weather.
The bodies of the five martyrs were airlifted from Jammu to Delhi, and from there to Patna and Pune.
Meanwhile, the army chief spent the day discussing strategy with the GOC-in-C of Northern Command and the GOC of 16 Corps based in Nagrota.
Directors General of Military Operations (DGMOs) of the two countries established contact a day after Pakistanis killed five Indian army jawans inside the Line Of control near Sarla post in Poonch sector.
Meanwhile, Pakistan military said that Indian troops fired on a post in Uri sector on Tuesday night and critically injured two soldiers.
"A special hotline contact was established this (Wednesday) morning between the DGMOs of Indian and Pakistan Army to discuss the situation arising due to recent Indian allegations on the LoC," Pakistani military sources said.
"Pakistan Army DGMO strongly and categorically rejected Indian allegations of LoC violation by Pakistani troops and killing of five Indian soldiers at LoC in Poonch sector on night of Aug 5," the sources said.
They said Pakistan Army also lodged a strong protest during special hotline contact for LoC violation by Indian troops in Pandu sector Wednesday in which two Pakistani soldiers were seriously wounded.
"It was reiterated by Pakistani DGMO that Pakistan Army (will) abide by the ceasefire agreements existing between the two countries," the military sources said.
The recent incidents heightened tensions between the neighbours at a time when Pakistan's new government is trying to improve relations with India and to resume the official dialogue.
Officials in the two countries say that Prime Minister Nawaz Sharif is scheduled to meet his Indian counterpart Manmohan Singh on the sidelines of the UN General Assembly in New York in September.
Pakistan said last week that it has proposed dates to India for resumption of the official dialogue and awaits Indian response.
Pakistan declared a unilateral ceasefire along the LoC in 2003 which was responded positively by India.
Jammu: Due to bad weather, the chopper carrying Army Chief Gen Bikran Singh could not take off and  he  travelled to Akhnoor, 30 km from here, to meet the local commanders, sources said.
On his arrival here, Gen. Bikram Singh first visited the Nagrota headquarters of 16 Corps, which is responsible for manning the LoC in Jammu region, including the Poonch district.
He later interacted with senior army officers at the division headquarters at Rajouri.
Four of the martyred Indian soldiers belonged to the 21 Bihar Regiment and one to the 14 Maratha Light Infantry Regiment.
Ara/Danapur (Bihar): Shambu Saran Rai, one of the five soldiers killed in Kashmir, was to come home on a holiday in Bihar's Ara town this week. Now, his grief-stricken family awaits his body.
A pall of gloom has descended on Rai's house at Anaitha in Ara, 60 km from Patna, with hundreds of people thronging it to voice their solidarity with the family -- plus anger and anguish.
Rai's wife Sapna Devi and mother Kusum Devi fainted several times when they were told about the death. Both were inconsolable.
Shambu Rai's father Vansidhar Rai struggles to control his tears.
"We were waiting for his arrival as his holiday had been approved. He would have been here Thursday or Friday. But destiny had something else in store. Now his body will arrive, not him," Rai senior told IANS.
Sapna Devi married Rai 12 years ago. They have three daughters and a son.
"She is shattered. Her world has crashed. She is unable to say anything except cry," said Rai.
The sorrow apart, the father is proud of his son.
"It is a rare thing that my son died for India. We are proud of him," he said.
A Non-Commissioned Officer and four soldiers were killed when the attackers, including men in Pakistani military uniform, sneaked into Indian territory and ambushed an army patrol near the Line of Control (LoC) in Jammu and Kashmir early Tuesday. One soldier was injured.
Equally distraught is Pushpa Devi, wife of Vijay Kumar Rai, another of the soldiers killed in the deadly ambush. She is unable to come to terms that her husband is no more.
Vijay Rai had left her at their house in Danapur near Patna July 27 to report for duty in Poonch in Jammu and Kashmir.
"After TVs reported that five soldiers had been killed in the border, she tried several times to call him on his phone but failed to get a response. She was not ready to accept anything negative till Vijay's brother, who is with the army too, gave her the bad news," said Vijay's brother Rajkishore Rai, a resident of Anandpur Thehka village.
Vijay's uncle Ramji Singh told IANS that Vijay Rai would be remembered for his bravery for the country. "He is now an icon of sacrifice."
Bihar Chief Minister Nitish Kumar has announced a state funeral for all four soldiers of the 21 Bihar Regiment who were killed and a compensation of Rs.10 lakh for their families.
Besides, Sambhu and Vijay, the other slain soldiers are Prem Nath and Raghunandan Prasad, both from Bihar's Saran district, and Naik Pundalik Mane from Maharashtra.
The killings have impacted ties between India and Pakistan, whose prime ministers are widely expected to meet on the sidelines of the UN General Assembly next month.