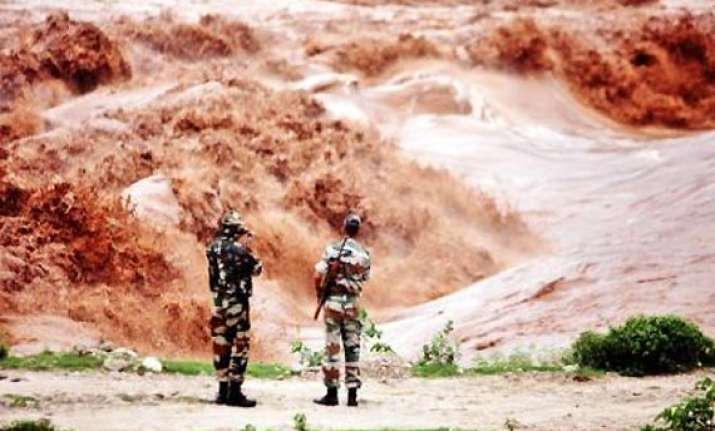 Rishikesh/Devprayag/Kedarnath/Govindghat, Jun 19:  Scenes of tsunami-like devastation have been witnessed at small towns like Devprayag, Rishikesh, Kedarnath, Govindghat, and Hemkund Sahib, after the mighty Ganga and its tributaries Alaknanda and Mandakini wreaked havoc on Uttarakhand in the last three days.
Devprayag till last week used to be a busy town on the Rishikesh-Badrinath highway jampacked with pilgrims embarking on the Chardham Yatra.
Today this town presents a scene of devastation with mud and slush all over, and no information about those swept away by the mighty flow of Alaknanda.
Long queues of pilgrims were seen on the Badrinath route, having their frugal meals inside their buses and sleeping out in the open for the last three days, waiting for the roads to reopen.
It will take quite some time for roads to reopen, as there are huge craters on the hilly roads caused by rains, flood and landslide. The Badri-Kedarnath dharamshala in Devprayag town was washed away by the Alaknanda flood. Only two out of the five persons staying in the dharamshala could be rescued. The other three were washed away.
In Srinagar, Pauri Garhwal, mud and debris carried by the floodwater have entered many of the homes making them uninhabitable. Families staying here blamed the government of inaction.
"Nobody from the local administration warned us about the impending disasters. At 2 am in the night, the neighbours shouted that a huge flood is on the way, and we ran for our lives. We lost everything", said one of the families.
Over to Rishikesh: Here, the Ganga water level has decreased since Tuesday, but resumption of traffic on the Rishikesh-Badrinath highway is a long way off, with huge craters on the main roads.
Amit Vasan, a local rafting expert, who used to conduct rafting expeditions for tourists, is crestfallen. "Everything is now gone", said Wasan, in Muni Ki Reti near Rishikesh.
The famous Marine Drive in Rishikesh is gone.  Huge quantity of flood water washed away the Marine Drive, and a nearly 2 km-long  road is not full of potholes and craters.
Over to Govindghat:  This small, sleepy town in 20 km away from the Sikh pilgrimage spot of Hemkund Sahib, where cricketer Harbhajan Singh is among those stranded.
All Char Dham pilgrims pass through Govindghat on their way to pilgrim spots. Said Lt Sukhdip, one of the Army recuers: "The roads are full of craters. We are trying to taken them through mountain roads".
With helicopters hardly visible anywhere, Army jawans are trying to rescue the pilgrims by giving them a helping hand, or a rope, or by any means available. The pilgrims were on the way to Joshimath when disaster stuck.
And now, the Uttarakhand flood update:
Total 102 dead (till Tuesday)
65, 000 stranded
10,000 evacuated on Tuesday
10,000 stranded between Govindghat and  Badrinath
20,000 stranded in Rudraprayag district
27,000 stranded in Chamoli dsitrict alone
15, 000 stranded in Uttarkashi
Out of 13 districts the worst affected districts are -- Rudraprayag, Chamoli , Pitthoragarh, Almora, Tehri , Pauri and Uttarkashi
12 helicopters have been pressed from today for evacuation , rescue and relief operation.
5,000 Army jawans have been pressed into relief, rescue and evacuation process.
1, 000 police jawans are already working at the ground level.
6 Teams of NDRF are working at the ground level.