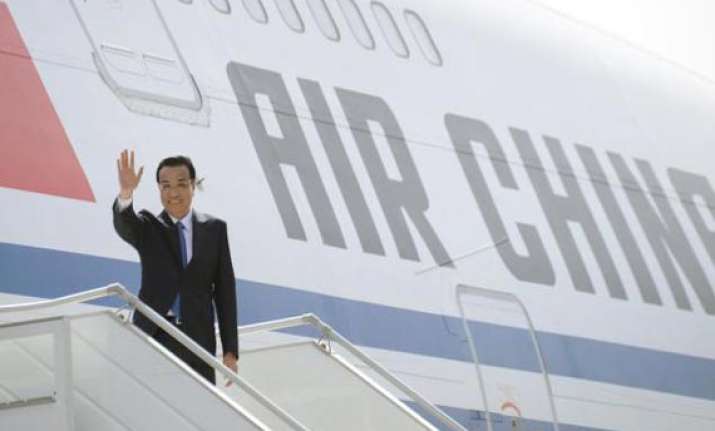 New Delhi, May 19: Nearly 27 years after he made his last trip to India, Chinese Premier Li Keqiang arrived in New Delhi on Sunday on his first overseas official visit and will hold talks with his Indian counterpart Manmohan Singh on all contentious issues, including the boundary dispute.
Mr. Li, accompanied by a senior-level delegation comprising government officials and businessmen, arrived around 3 p.m. and was received by Minister of State for External Affairs E. Ahamed and senior Ministry officials including Foreign Secretary Ranjan Mathai.
Shortly after his arrival on a three-day visit to India, which is his first overseas stop after assuming office in March, Mr. Li will be holding restricted talks with Dr. Singh, who will also host a dinner for the visiting dignitary at his official residence which will be attended by among others members of major political parties, including the BJP and the SP.
Ahead of his visit, Mr. Li had said the fond memories from the visit, which he made 27 years ago, also made him choose India for his first overseas visit.
Recalling his last visit to India, he said, "What I saw and felt during that trip, visiting the Taj Mahal and prestigious Indian universities, research institutes, and the warmth and hospitality of the Indian people, left a lasting impact on me."
"In a few days' time I will make India the first stop of my first overseas visit as a premier of China. I have made this decision not just because India is an important neighbour and one of the populous countries of the world but also because of the seeds of friendship sown during my own youth," he had said.
Asserting that India thinks "very highly" of Li's gesture of making the country his first overseas stop after assuming charge, spokesperson in the Ministry of External Affairs Syed Akbaruddin said such high-level exchanges are aimed at enhancing trust and understanding as well "exhibit sensitivity" to each other's concerns.
On Monday, the two leaders, accompanied by high-level delegations, will hold comprehensive talks on key international, regional and bilateral issues.
"Everything is on the table," Joint Secretary (East Asia) Gautam Bambawale said when asked about the issues to be discussed between the leaders of the two countries, which are witnessing differences on various crucial matters including boundary, waters and on market access under economic ties.
"The two Prime Ministers would talk about these subjects. Since it (incursion) being the recent occurrence(will be discussed)," Mr. Bambawale said.
Asked if there was any progress made on the Chinese proposal on Border Defence Cooperation Agreement, to which India has also submitted a counter proposal, Mr. Bambawale said, these proposals were currently being discussed but refused to divulge further details.
On the economic front, Mr. Bambawale said India will continue to press for access to the Chinese market.
In 2012, bilateral trade was $66 billion, a decline over the $74 billion in 2011. The two countries have set a target of $100 billion by 2015 for bilateral trade.
India faces a growing trade deficit vis-à-vis China. By end 2011, India's trade deficit was $27 billion. According to Chinese trade figures released in January 2013, the figure expanded to $29 billion by 2012.
Apart from trade, India is also the largest market for project exports from China. As per Chinese figures, cumulative Chinese investments into India till December 2011 stood at $575.70 million while Indian investments into China were $441.70 million.
Another issue which will be raised by India is expected to be its concern over the Chinese proposal to construct three more dams across the Brahmaputra river which originates in Tibet.
India has been pressing China to have either a water commission or an inter-governmental dialogue to deal with water issues as under the current Expert Level Mechanism (ELM), the two countries only share hydrological information.
On his second-leg of journey to Mumbai, officials said Mr. Li will attend a meeting with business leaders and visit Tata Consultancy Services facility.
The Chinese Premier will also meet family members of late Dwarkanath Shantaram Kotnis, an Indian physician dispatched to China to provide medical assistance during the Second Sino-Japanese War in 1938.