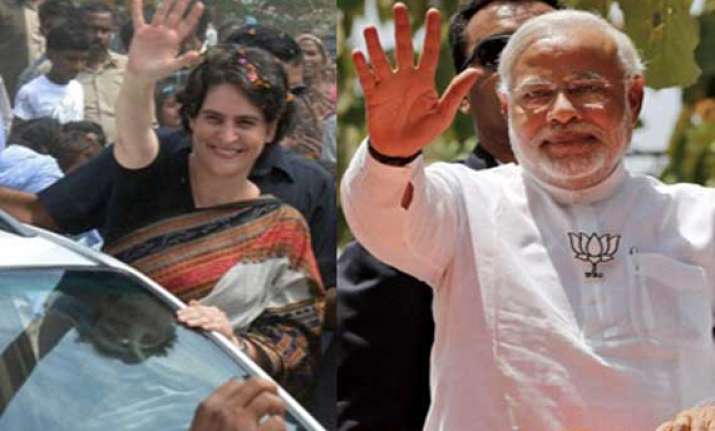 New Delhi: After campaigning for brother Rahul Gandhi and mother Sonia Gandhi in Amethi and Rae Bareli, Priyanka Gandhi is likely to make a strong political pitch against BJP's prime ministerial candidate Narendra Modi in Varanasi.
"She may be visiting but the programme is not yet finalized", a senior party leader said when asked whether Priyanka plans to visit Varanasi before May 12 when polling is scheduled in the constituency.
If Priyanka's visit materializes, it will be Congress way of getting back at Modi who on Monday broke the unwritten code that no top political leader campaigns in the political backyard of a top rival.
Hours after BJP's prime ministerial candidate challenged the Gandhis in their pocketborough of Amethi, Priyanka Gandhi hit back at Modi for allegedly insulting her "martyred" father Rajiv Gandhi.
Accusing Modi of indulging in 'low-level' politics, Priyanka said people of Amethi will never forgive him.
There was speculation earlier too about Priyanka Gandhi visiting Varanasi but she had scotched it at that time by saying she would only campaign in Rae Bareli and Amethi.
However, she would be free from campaigning for Rahul in Amethi, which goes to poll on May 7, this week, reviving the question if she could visit Varanasi.