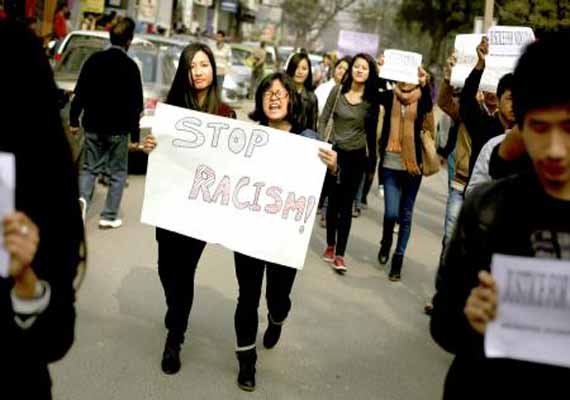 New Delhi: Scores of students of Delhi University today staged a protest at the Arts Faculty building in North Campus demanding immediate arrest of culprits in connection with the death of Arunachal Pradesh student Nido Tania.
The students, led by National Students' Union of India (NSUI), said if culprits are not soon arrested, they would intensify their agitation.
Around 200 students from different colleges attempted to take out a protest march but Delhi Police personnel didn't allow the them to do so.
Thereafter, the students staged the protest at the Arts Faculty and demanded justice for 19-year-old Nido who was allegedly assaulted by some shopkeepers, which later led to his death in Lajpat Nagar area.
"We have come here to demand justice for the Northeast student. All DU students are with the parents of Nido. Police should immediately arrest the culprits responsible for this brutal death. If police fail to do so, hundreds of students would launch a serious protest against the police," said Amrish Ranjan Pandey, a spokesperson of NSUI.  
Pandey also said Delhi government should also ensure the security of Northeast student as there are hundreds of students from the region here.
In this situation, government needs to come up with effective steps for their security, he added.