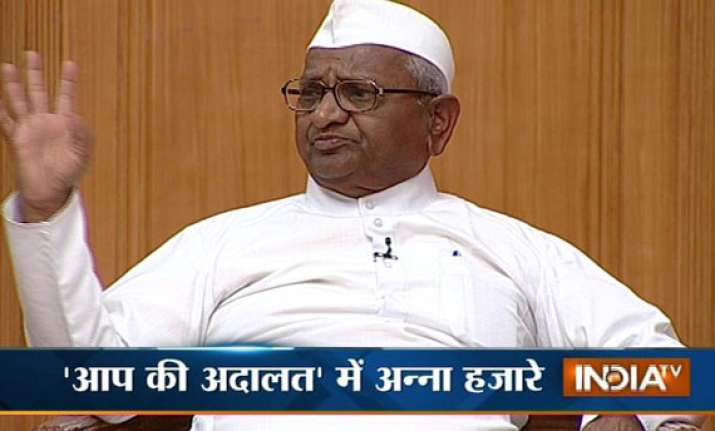 New Delhi: Gandhian activist Anna Hazare is unhappy with Aam Aadmi Party chief Arvind Kejriwal and has said, his dream about entering the Prime Minister's House appears to be a bit premature.
Replying to queries from
Rajat Sharma
in India TV's flagship show Aap Ki Adalat, Anna Hazare said:"I told him to first make Delhi a model state and then tell the country about it. If the nation finds a new model, it's effect would be greater, but instead creating a model he suddenly started dreaming about the country. This is not good."
About Kejriwal staying in government accomodation, Hazare said: "I thought he was a tyaagi (selfless), that he doesn't crave for worldly things, has left his home, everything. but when he became the CM, I found he lacked these qualities..Now he is dreaming of entering the Prime Minister's House. I am more surprised."
Hazare had praise for West Bengal chief minister Mamata Banerjee. He said: "She is the chief minister of a state, but wears hawai chappals and a simple saree. She did not take government accomodation and stays in a small room in her father's house. If such people come to power, the face of the nation will change."
The Gandhian activist said, he had sent 17 points to all major political parties seeking their promise to implement them, if they came to power. None of the parties replied. Only Mamata Banerjee replied promising to implement them if he came to power. I sent her a message. Make an affidavit before the people that if I fail to implement those promises, I will resign."
Aap Ki Adalat will be telecast on India TV on Feb 22 (Saturday) at 10 pm, and on Feb 23 (Sunday) at 10 am and 10 pm.