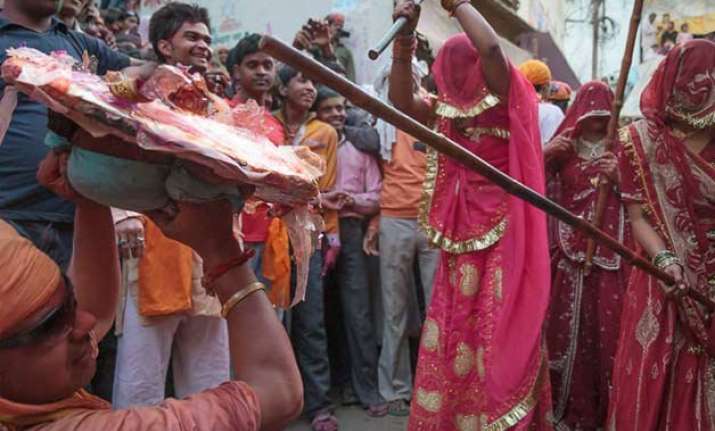 Mathura/Vrindavan: Thousands of devotees and pilgrims watched the famous "Lathimaar Holi" of Barsana with keen excitement and boisterous cheers.
Dressed in colourful costumes, the singers from Nandgaon arrived Friday afternoon after consuming 'bhaang' (a preparation from the leaves and flowers of the female cannabis plant) and 'thandai' (a cold drink prepared with a mixture of almonds, fennel seeds, rose petals, saffron, milk and sugar) at Peeli Pokhar but had to wait for a while as preparations were going on at the Rangeeli Gali compound.
Crossing the narrow lanes of Barsana they reached the Shri Ji temple atop the hill where 'samaj gayan' and music was in full flow late Friday evening.
After the customary rituals, they climbed down to reach the compound of the theatre Rangeeli Gali.
Soon groups of veiled beauties, the Huriyarins of Barsana wielding their oiled batons arrived on the scene. Responding to the high crescendo of shouts and songs the women pounced upon the waiting men with their 'lathis' (batons).
The 'gops' (men from Nandgaon) jumped high as the batons rained on their heads protected only by a leather sheath.
Frenzied pilgrims from across India and NRIs (non-resident Indians) watched with awe and amusement, as the whole area was enveloped in a cloud of myriad colours of 'gulal' (coloured powder).
"We had full entertainment and experienced a spiritual catharsis of unprecedented dimension. An unforgettable scene that time cannot erase," said a pilgrim from Mumbai, Rajesh Bhai.
Most of the pilgrims who had come from distant places left in the evening. A few stayed back for another round of celebrations at Nandgaon Saturday.
Talking about the uniqueness of Barsana Holi, Huriyarins (gopis) Anita Sharma, Shyam Lata Sharma, Rajni Sharma, Jamuna Devi and Vijay Laxmi Sharma told IANS: "This tradition dates back to the 'Dwapar yuga' of Shri Krishna-Radha and is a clear demonstration of equality and empowerment."
Meanwhile, the temple of Dwarkadheesh in Mathura and Bankey Bihari in Vrindavan are gearing up for the 'Rang Bharni Ekadashi Holi' celebrations Sunday.
"In Barsana more than a lakh pilgrims turned up. In Mathura and Vrindavan, we are expecting a massive invasion of pilgrims from far off places," said a local priest Girdhari Lal.