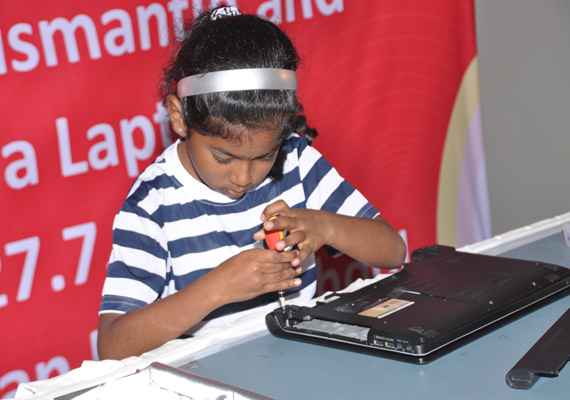 Coimbatore: A nine-year old girl from the city has been conferred with honorary doctorate by the UK-based World Records University for her achievement as 'the fastest to dismantle and assemble a laptop'.  
The degree was conferred on P Adarshini, a fourth-standard student in Koilpalayam, last week in Ho Chi Minh City of Vietnam for her record breaking performance, Prabhu Mahalingam, her father running an IT solutions firm, told reporters here yesterday.
Prabhu said she had earlier won Tamil Nadu Book of records, Indian Book of Records and Asian Book of Records last year for her feat.
Adarshini said that she found interest in dismantling laptops during her visit to the showroom of her father, who is running IT-Solutions unit and found that she can dismantle and assemble the laptop in 15 minutes.
From then onwards she had not not looked back and now can do the job in 10 mintues, Adarshini said.  
'Now I am concentrating on developing new apps, which should be used by worldwide and I am confident of achieving this,' the girl said.