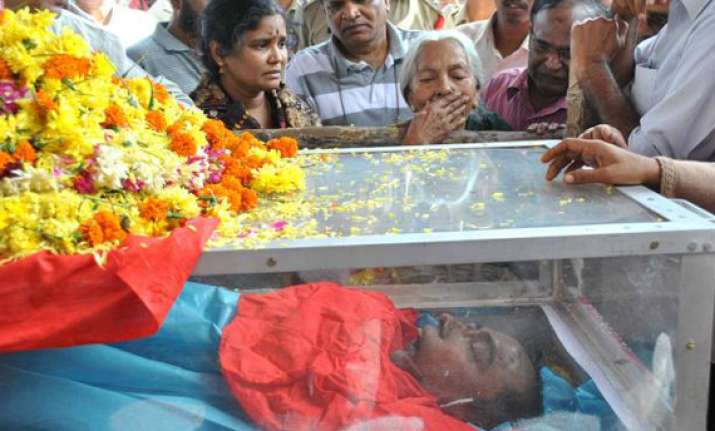 Karimnagar (AP), Nov 28: Top Maoist leader Malojula Koteswara Rao alias Kishenji, who was killed in an encounter with security forces in West Bengal, was cremated on Sunday at his native village, as the CPI(Maoist) gave a two-day Bharat Bandh call from December 4.

Kishenji's elder brother Anjaneyulu lit the pyre at Peddapalli, 35 km from here.

The funeral was attended by political leaders including Telangana Rashtra Samithi MLAs Etela Rajender and Koppula Eeshwar, besides TRS MLC N Laxman Rao.

Ballad singer and Naxal sympathiser Gaddar, who was also present, demanded that the movement for separate Telangana state be intensified as a homage to Kishenji.

Alleging that Kishenji was murdered, outlawed CPI(Maoist) party termed the encounter as fake and gave a two-day Bharat Bandh call from December 4 in protest against his killing. 

Maoist Central Committee spokesperson Abhay released a letter alleging that Kishenji was murdered in a fake encounter.

The letter was read out by the revolutionary writer and Maoist sympathiser Varavara Rao at Peddapally.

58-year-old Kishenji was killed in a gunfight with security forces at Burisole jungle in West Midnapore district of West Bengal on November 24.

His body was brought to Peddapalli from Kolkata in wee hours today and was kept at his residence after local police denied permission to his family members to keep the body for public viewing at Junior College ground.