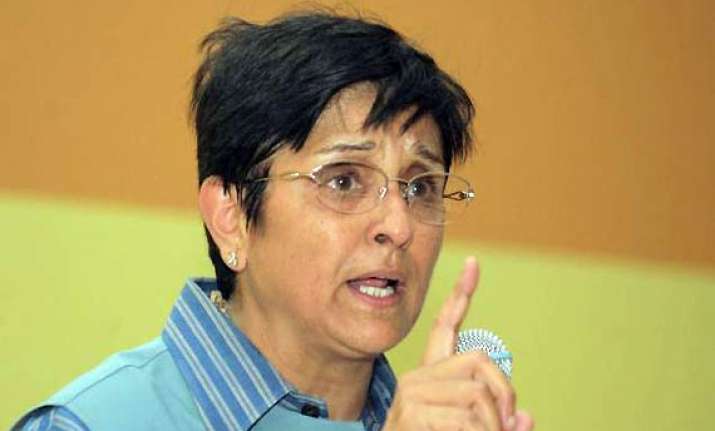 New Delhi, Nov 23: Team Anna member Kiran Bedi today asked as to what was stopping ruling Congress from declaring its resolve to create an effective Lokpal through a special session of Parliament or an ordinance in case Parliament by any chance is stalled.

"What stops the party in power to declare its resolve to bring an effective Lokpal come what may...(either through) a special session or even an ordinance?" Bedi tweeted. 

Bedi's latest tweet is not in sync with Anna Hazare's stand that the Jan Lokpal Bill be passed during the ongoing Winter Session of Parliament.

Asked whether her stand means Team Anna is reconciling to the idea that the Lokpal Bill may not be passed during the Winter Session, Bedi told PTI, "Its my personal tweet. It is not a reconciliation. Its spreading awareness against any excuse whatsoever.

"What I am saying is that nothing can stop the party in power from creating Lokpal. It can do so through any means...  even if Parliament by any chance is stalled. It can express its resolve by calling a special session focussed on Lokpal. 

"Or worst come to worse, it can even do so through an ordinance if it is determined to give the country an independent anti-corruption architecture currently missing in the country," she said.

Hazare has threatened to relaunch his agitation on the last day of the Winter Session if government failed to bring a strong Lokpal Bill by then.

He had also said that he will campaign against Congress if the government did not pass the bill in ongoing session.

Minister of State in PMO V Narayanaswamy had written to Hazare yesterday assuring the activist that the government was committed to a "strong" Lokpal bill and that it will bring measure in the ongoing session.

Team Anna had yesterday expressed its willingness to de-link citizen's charter from the proposed anti-corruption ombudsman provided that a separate bill on the lines of the one in Uttarakhand is introduced in Parliament along with the Lokpal Bill.

The activists led by Hazare have been demanding that the citizen's charter should be part of the Lokpal Bill.

They have come up with two options for government—either to implement the resolution of Parliament and include the charter in Lokpal Bill or bring a strong grievance redressal bill.