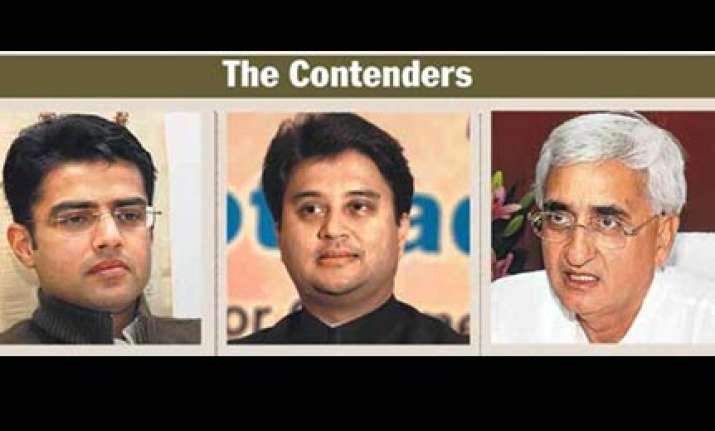 New Delhi, Nov 11: Prime Minister Manmohan Singh will have to chose a replacement for Prithviraj Chauhan in the PMO.  
At least three names are in the reckoning  for replacement int he PMO. They are:
Sachin Pilot
and
Jyotiraditya Scindia
, and the highly-respected Salman Khurshid, reports the Mumbai newspaper DNA. All three are ministers in UPA government, highly-educated and have done well in their jobs. All three are squeaky clean and at least two are very young.
However, no one is sure who will answer questions on behalf of the prime minister in Lok Sabha and Rajya Sabha after Chavan goes. The disruption of parliament may, in a way, suit the prime minister as he would not be in a hurry to pick a successor to Chavan.
After all, Chavan was Singh's most trusted minister and was in charge of several important ministries and departments. He had been handpicked by the prime minister and had been working directly under him for more than six years.  
The prime minister had so much faith in Chavan that when Suresh Pachauri was sent to Bhopal, he was given the portfolio of department of personnel, handling CBI and the bureaucracy.
Before this, Chavan was minister of state for parliamentary affairs and ocean and earth sciences. When Kapil Sibal was made human resource minister in UPA's second term, the science and technology ministry was given to Chavan.
As if this was not enough, Manmohan Singh set a new precedent — Chavan became the first minister to hold the rank of minister of state and minister of state with independent charge. He was minister of state in the PMO and held independent charge of others.
The PM shared an excellent chemistry with Chavan, largely because of his educational background. Chavan had done his M.Tech from Pilani in Rajasthan and his MBA from Berkeley. His honesty and integrity was impeccable and quickly rose in Singh's esteem.
There is unlikely to be any cabinet reshuffle until December 13. Changes in the composition of the All India Congress Committee (AICC) and Congress working committee will take place before December 18.
Once the new AICC is in place, ministerial level changes will take place sometime from December 21-28 or in the second week of January depending upon the visits of various foreign leaders and other key engagements. But the die has been cast, and the process has begun.