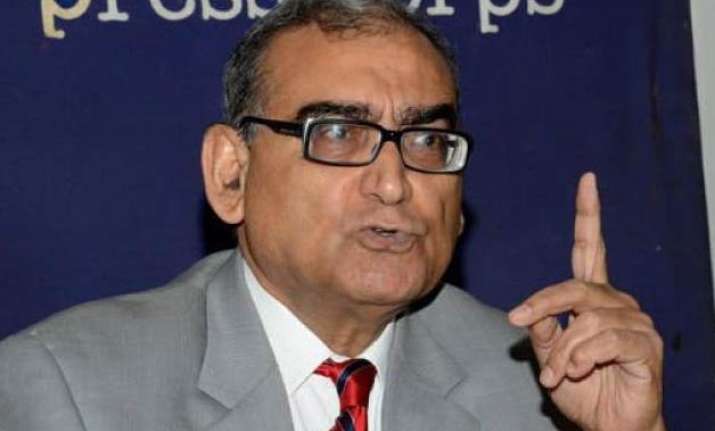 New Delhi: Former chairman of the Press Council of India, Markandey Katju, in his latest blog, described Mahatma Gandhi as an agent of Britishers.
His blog reads that Gandhi was 'objectively' a British agent who did great harm to India.
Katju said that 'by constantly injecting religion into politics continuously for several decades, Gandhi furthered the British policy of divide and rule'.
"If we read Gandhi's public speeches and writings (e.g. in his newspapers 'Young India', ' Harijan ', etc) we find that ever since Gandhi came to India from South Africa in 1915 or so till his death in 1948, in almost every speech or article he would emphasize Hindu religious ideas e.g. Ramrajya, Go Raksha (cow protection), brahmacharya (celibacy), varnashram dharma (caste system), etc (see Collected Works of Mahatma Gandhi)," the blog reads.
"Thus Gandhi wrote in 'Young India' on 10.6.1921 'I am a Sanatani Hindu. I believe in the varnashram dharma. I believe in protection of the cow'. In his public meetings the Hindu bhajan ' Raghupati Raghav Raja Ram ' would be loudly sung," the blog further reads.
"Now Indians are a religious people, and they were even more religious in the first half of the 20th century. A sadhu or swamiji may preach such ideas to his followers in his ashram, but when they are preached day in and day out by a political leader, what effect will these speeches and writings have on an orthodox Muslim mind? It would surely drive him towards a Muslim organization like the Muslim League, and so it did. Was this not serving the British policy of divide and rule? By constantly injecting religion into politics for several decades, was Gandhi not objectively acting as a British agent?" Katju writes.
Katju also said that Gandhi successfully diverted the freedom struggle from a revolutionary direction to a harmless nonsensical channel called Satyagrah and served British interests.
He also claimed that Gandhi was against industrialization and preached hand spinning by charkha and other such reactionary nonsense.