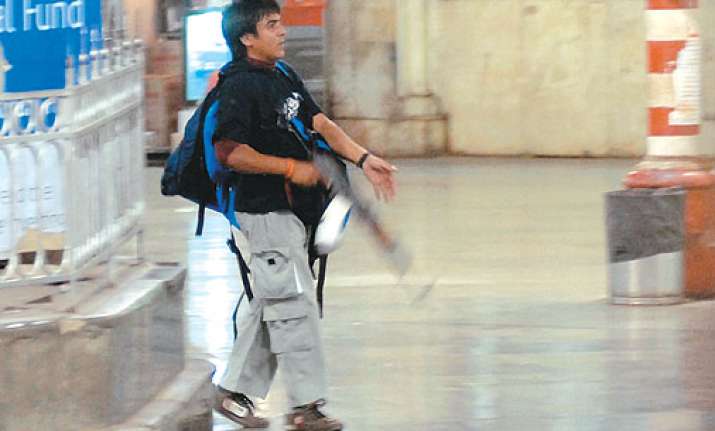 Mumbai, Feb 9: Pakistani terrorist Ajmal Kasab, awarded death penalty in the 26/11 attacks case, would be among those who would be counted in the 15th national census, as part of the population enumeration exercise.
The second phase of the census beginning on Wednesday will include head counting and population enumeration.
Kasab is currently lodged in the Arthur Road jail and is awaiting the Bombay High Court's verdict on confirmation of his death penalty as well as his appeal against conviction.
"All prisoners lodged in the Byculla and Arthur Road jail in Mumbai will be counted in the second phase for the census," Additional Municipal Commissioner Manisha Mhaiskar said.
A new category called institutional household has been created to include all those who stay in hostels, jails and hospitals, she said.
"The BMC enumerators will train jail authorities who will carry out the census exercise in jails. All prisoners -- Indians or foreigners -- lodged in jails at the time of census exercise would be counted," BMC's Executive Health Officer and city Census Officer G T Ambe said.
In the second phase, the enumerators will collect data on demography, economic activity, literacy and education, housing and household amenities, urbanisation, fertility and mortality, caste, tribe, language, religion and migration of residents.
On the night of February 28, the homeless population will be counted. The revision round will be held between March 1 and 5 to enumerate those who were missed in the first round.
In new additions to the census form, the third gender would be counted as 'others', besides male and female genders.
Prostitution would be counted in the 'other occupation' category, Mhaiskar said.
Physically challenged people would have eight categories for a detailed report on their status.
Milking cows, mehendi designing, papad-and pickle-making will be recorded as economic activities, she said.
All the civic-run primary schools in the city will remain closed between February 14 and March 5 as the local civic body
ropes in teachers of these schools for the Census exercise in the city.
For counting the homeless, the BMC ward officials will start ground work four weeks before but the actual counting will be carried out on the night of February 28.
"We have asked all the 24 ward offices to gather information on homeless people. The survey will begin after 11 pm and will continue till early morning. The officers have been asked to collect information including their name, age, mode of income, from where they arrived and family members among others," Mhaiskar said.
Simultaneously, the process of giving the Unique Identification (UID) card is going on. "There will be four vendors who will carry the biometric process and there are about 155 centres across all 24 wards where people can get their UID cards," she said. PTI