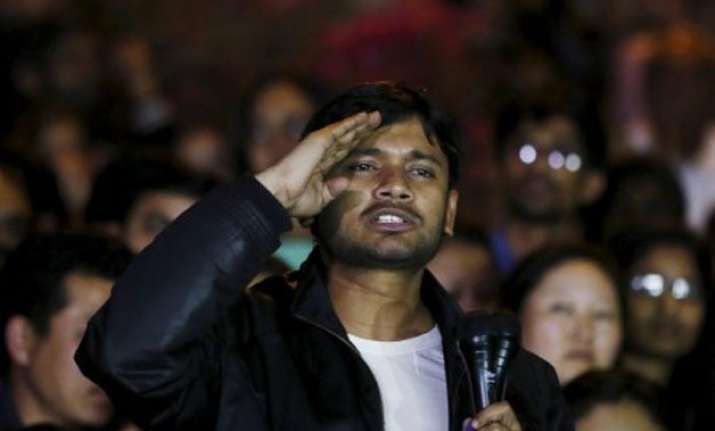 New Delhi: Days after his conditional release in a case of sedition, JNU students union president Kanhaiya Kumar today said he will lead the movement demanding the release of two other varsity students Umar Khalid and Anirban Bhattacharya.
The two students are still in judicial custody in a sedition case over a February 9 event at the JNU campus held to commemorate the hanging of Parliament attack convict Afzal Guru, where "anti-national" slogans were allegedly raised.
"Though I have got bail in the case despite both the government and police trying their best to delay it as far as they can but our fight is not over yet. Umar and Anirban are yet to be released. I will now lead the ongoing student movement," Kanhaiya told PTI.
Kanhaiya was released from Tihar Jail last week after the Delhi High Court granted him bail. "Though our primary focus is to get them released, but one thing I am sure of is if I adopt this ideology of raising our voice these trips to prison will become a frequent thing," he added.
While Kanhaiya spent 18 days in jail, two other students – Umar Khalid and Anirban are also in judicial custody in a sedition case over the event.
The JNU Students Union led by Kanhaiya has called a council meeting tonight to discuss the "onslaught on JNU" and finalise their future course of action. JNUSU Vice President Shehla Rashid Shora had led the student agitation in Kanhaiya's absence.
Five other students – Umar Khalid, Anirban Bhattacharya, Rama Naga, Anant Prakash and Ashutosh Kumar – had gone in hiding since then but resurfaced on the campus 10 days later.
While Umar and Anirban surrendered before the police, the remaining three refused to do so but maintained that they are open to questioning by police as and when needed.
(With PTI inputs)