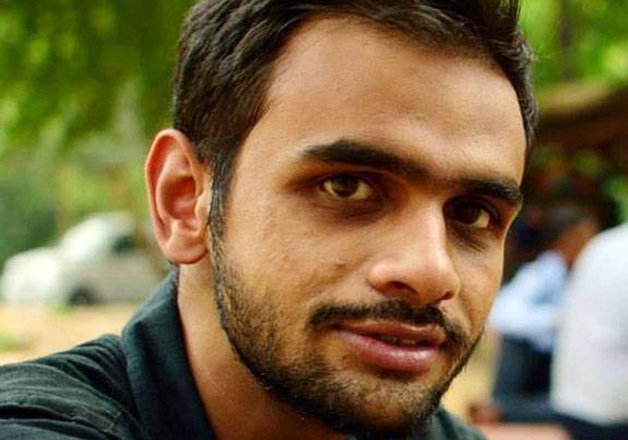 New Delhi: Syed Qasim Ilyas, father of absconding Umar Khalid who had raised pro-Afzal Guru and anti-India slogans at the JNU, today said that he will appeal his son to surrender before police only after Home Minister Rajnath Singh and Prime Minister Narendra Modo give the guarantee of his security.
Speaking to India TV, Syed said, "I appeal him (Umar) via media to surrender. But Home Minister and Prime Minister should come ahead and ensure that he (Umar) will not be attacked in the manner Kanhaiya was thrashed outside and inside the court."
He also said that his son was 'wrongly framed and it is for the court to decide whether he is anti-national or not'.
Maintaining that Umar was being targeted because he was a Muslim, Syed said, "The court will decide his fate. But unfortunately media houses are running parallel trial and calling him an anti-national element. Media houses are saying he is absconding. You are calling him culprit, chief organiser of the event. Have you seen the FIR copy? Is his name listed there? What is happening in Kanhaiya case, initially police claimed that they have enough evidence to prove the sedition charges but now they are ready to withdraw the charges."
When specifically asked about the video showing Umar raising anti-India slogans, he replied, "There are lot many tampered videos coming in public domain. The same thing happened in Kanhaiya case. A police team visited my parental village... basically they are doing profiling, drama..."
"I am appealing Umar via media to surrender but first create the situation, provide him space. I don't know where he is. May be police has already taken him into custody. Such instances have happened in past," he added.
Umar Khalid's ancestral village is Talegaon. His father had migrated to Delhi 30 years ago and runs an Urdu magazine here.
Umar's father, also a former member of Students Islamic Movement of India (SIMI), said that he quit the outfit in 1985 before it was banned as a terror group.  
On the other hand, Umar's sister said that she has been receiving regular threats on Facebook that her family members will be killed.
"I am getting regular threats on Facebook. I was told we will come to your house and kill you, rape you. Our life has become hell under the false allegations," she told India TV.
"Only one person is blamed for the entire incident and this is only because his name is Umar Khalid. Last time I met him on January 10, the day he visited the home," she added.
Under the banner of Democratic Student Union, he organised the program on Afzal Guru's death anniversary. Huge number of Kashmiri students from JNU and outside had assembled for the program.
Call records of two mobile numbers belonging to Umar, the main organiser of the February 9 event at the JNU campus, have revealed that over 800 calls were made from his numbers between February 3 and 9, including some to Jammu and Kashmir.
Sources told India TV that of these 800-odd calls made during the period, 38 calls were made to Jammu & Kashmir. A total of 65 calls were received on Khalid's numbers from J&K as well.
The details have emerged from the ongoing investigation being carried out by the Delhi police as they intensified their search for the former leader of the Democratic Students' Union (DSU).
Watch video: