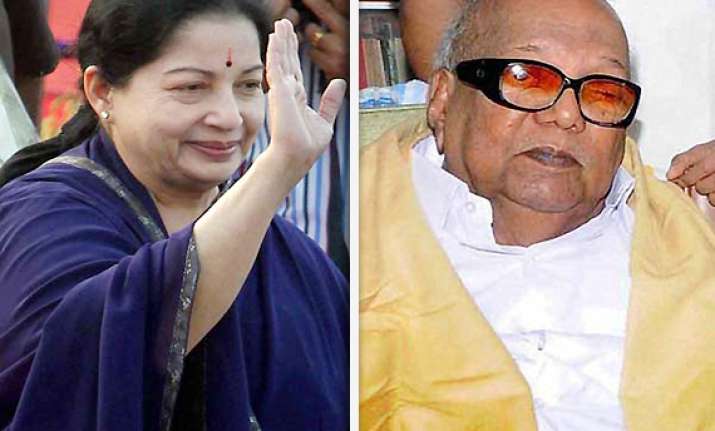 Chennai, Aug 10: Slamming M Karunanidhi for his stand on the Food Security Bill, Tamil Nadu Chief Minister Jayalalithaa today asked the DMK chief whether his party would move amendments as sought by him and vote against the legislation if no changes were made.
Karunanidhi had yesterday said his party would support the bill only if the Centre brought required amendments and ensured the state's existing rights were not affected.  
In a letter to partymen, Karunanidhi had described the bill as a "constructive" measure but said "the Centre should come forward to pass the legislation with urgent and necessary amendments to bring it in line with practice in the state."
Joining issue with him, Jayalalithaa said, "What is the benefit in issuing such a statement. At this juncture, people of Tamil Nadu expect answers from him on the implementation (of the Food Security Programme).
"Is he aware that if the Bill is passed, about one lakh tonne of food supply to the state would get reduced?", Jayalalithaa asked in a statement.
She also sought to know whether the DMK would present the proposed amendments to the Bill during the ongoing session of the Parliament or not?
She wanted Karunanidhi to spell out whether the DMK would vote against the bill in the present form which was against the state if it was put to vote in Parliament.  
Observing that the Bill was against the existing public distribution system in the state, she said, there was a provision in the Bill that a kilo of rice would be given for Rs three only for three years.
"Is he aware of it or not?" she said, demanding that Karunanidhi respond to her queries before the Bill was taken up for discussion in Parliament.