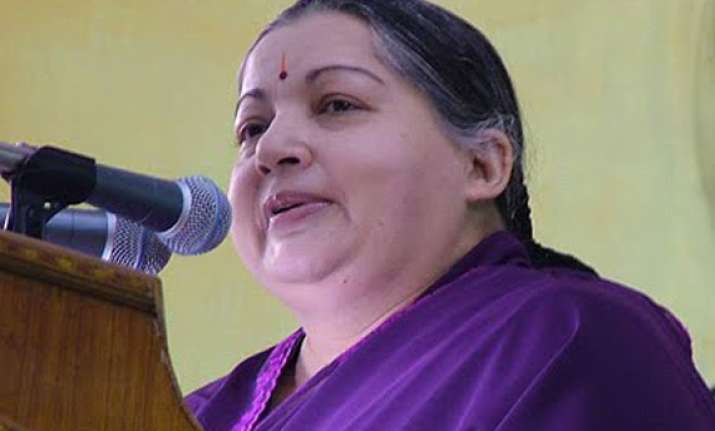 Bangalore, Oct 18: Tamil Nadu Chief Minister J Jayalalithaa will appear on October 20 before a special court that will hold its proceedings inside a prison complex on the city's outskirts in a disproportionate assets case against her.

Jayalalithaa will appear before Special Judge B M Mallikarjunaiah for recording her statement in the case as directed by the Supreme Court.

Judge Mallikarjunaiah on Monday  ordered that the special court would be temporarily shifted to the court in Parappana Agrarahara (central prison) to facilitate appearance of Jayalalithaa for security reasons.

He directed the state police authorities to provide necessary security for Jayalalithaa in compliance with the recent Supreme Court order which directed her to personally appear in the court on October 20.

The judge also asked the authorities to ensure adequate security measures for shifting of the records and other material pertaining to the case to the Special Court in Parappana Agrahara.

Earlier, Deputy Commissioner of Police (Central) G Ramesh submitted a report to the court on behalf of Police Commissioner Jyothi Prakash Mirji proposing four venues - Judicial Academy, Balabrooie Guest House, Special Court at Parappana Agrahara and Jakkur Flying School - for the special sitting.
 
After discussions with police officials, Special Public Prosecutor B V Acharya said Jakkur Flying School was preferable among the four from the security point of view.

But when the judge sought to know whether infrastructure facilities could be created there in short time as only two days are left, Acharya suggested Parappana Agrahara, which already has the court.

Opposing this, Jayalalithaa's counsel A Kandasamy said Jakkur Flying Club would be suitable as it already has a helipad, it is close to the airport making the commuting time less and arranging security would be easier.  The judge also observed that in view of the "threat perception", the Supreme Court has directed that adequate security arrangements be made for the trial.

Jayalalithaa's plea for exemption from personal appearance for questioning under CrPC section 303 on security grounds was turned down by the Supreme Court last month.  The AIADMK supremo is facing charges of accumulating assets worth over Rs 66 crore by her between 1991 and 1996 when she was Chief Minister for the first time.

The case was shifted to Bangalore by the Supreme Court on a petition by DMK General Secretary K Anabalgan during the previous AIADMK regime.