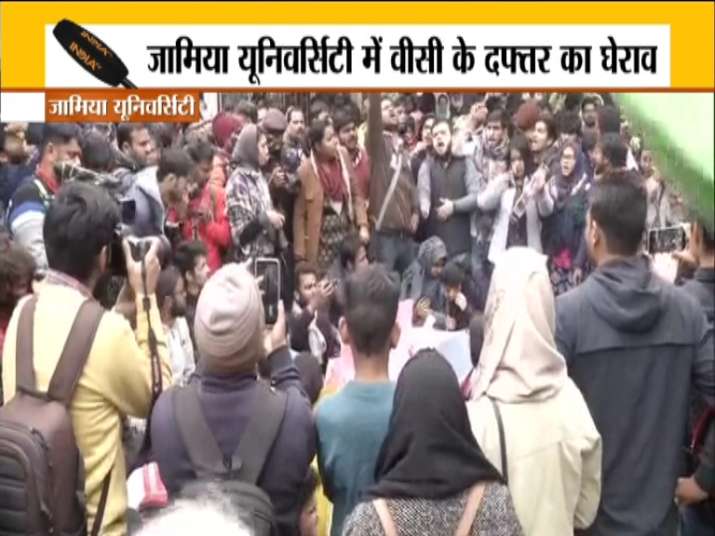 Tension continued to prevail in the national capital on Monday with Jamia Millia University witnessing protests. The protesting students gheraoed vice-chancellor Najma Akhtar's office in the varsity on Monday and demanded registration of FIR against the Delhi Police over December 5 police action.
Among other demands, they also want the university to reschedule examinations and ensure security of students. The students barged into the office premises after breaking the lock on the main gate and raised slogans against the VC. They are staging a sit-in outside the office, asking the VC to interact with them over the issue.
In the afternoon, Najma Akhtar came out to address the concerns of the agitating students. She said the university filed an FIR but police did not receive it. Further, the vice-chancellor announced that the university would move court on the matter and register a protest with the government.
Earlier on Sunday, Delhi's Shaheen Bagh witnessed massive protests against the Citizenship Act and NRC. Huge crowds gathered on the streets. An interfaith prayer meet was also organised during the anti-CAA and NRC protest where Hindu priests performed Yagnas, Bible and Quran were read out before hundreds of the protesters participating in reading the Preamble of the Constitution.
JNU administration asks teachers to resume classes
The Jawaharlal Nehru University (JNU) administration on Monday issued an advisory to teachers to resume their classes in the interest of students.
The advisory was issued after two JNU Teachers' Association officer bearers announced a "non cooperation" plan, the varsity said.
"The above call for 'non-cooperation' not only goes against the efforts of the administration for restoration of normalcy in the campus and resumption of academic activities but also reflects the intention of JNUTA to disrupt normal functioning of the university," the varsity said in its advisory.
Thousands of students have already registered for the 2020 Winter Semester and others are in the process of doing their registration, it said.
ALSO READ | Shaheen Bagh protests in pictures: Graffiti, demonstrations on display against Citizenship Act, NRC=
ALSO READ | JNU violence: Delhi Police identify masked woman as DU student