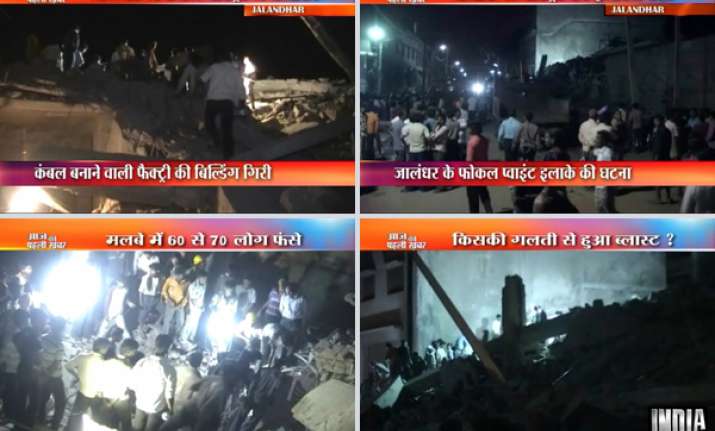 Jalandhar, Apr 17: The death toll in the blanket factory building collapse on Monday went up to eight, as six bodies were retrieved from the debris by rescuers.
The owner of the factory Sheetal Vij has been arrested under Sec 304, 120-B of IPC and Prevention of Corruption Act.
All the eight killed were employees of Sheetal fibres which manufacturers blankets. 55 others were injured after the four-storey building in Focal Point Extension here collapsed  late on Sunday night.
The structure collapsed at around 1.30 pm on Sunday when over 300 employees were working over-time, according to some workers. Most of the employees were migrants from UP and Bihar.
Factory owner Shital Vij said  around 70 workers could have been inside when tragedy struck.
NDRF Assistant Commandant Musaphir Ram said the building seemed to have collapsed due to poor construction. The factory was constructed four years ago.
Relatives and friends of the trapped workers complained of the tardy pace of rescue operations and raised slogans against the administration. Police Commissioner Gaurav Yadav managed to persuade the mob to allow smooth conduct of operations.
The Punjab Government has announced an ex-gratia of Rs 2 lakh to the next of the kin of each of the deceased, Rs 65,000 for the seriously hurt and Rs 45,000 for those who sustained minor injuries. Of the injured, 16 have been discharged, whereas 39 are still in hospitals.