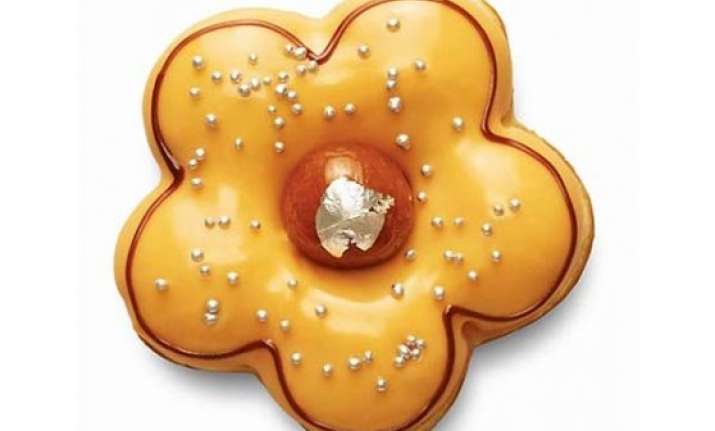 New Delhi, Nov 10: It's time to indulge in Indo-Western fusion sweets. Go beyond the good old motichoor laddoos and gulab jamuns and pick motichoor doughnuts and chocolates in shapes of fire crackers to live up the Diwali fever.

Outlets like Dunkin' Donuts, Choko la, Haagen-Dazs and Yogurberry are trying to cash in on the festive season to offer quirky delights to engage youth in trying Indian flavours of international sweets.

"This is an attempt to offer something topical and in tune with the country's culture," Dev Amritesh, COO, Dunkin' Donuts India, told IANS.

Doughnuts, the sweet rings of dough said to have originated in the US, are usually topped with chocolate and colourful sprinklers.

But US-based Dunkin' Donuts, which opened shop in India only earlier this year, has introduced motichoor surprise, kesar pista delight, petal jamun, nuts n stars and coconut burst for the Diwali season.

The petal jamun is a flower-shaped doughnut topped with mango-flavoured icing and a small gulab jamun in the middle, while the coconut burst has a juicy rasgulla in the middle.

"The response is very positive," said Amritesh. "It is a good idea for corporate gifting, and we are getting orders of 100 to 300 packs. It has struck a chord with youth as well, as they like to try something new."

Kaveri Singh, a young college-goer says her grandparents haven't ever tried a doughnut. But she feels she can now tempt them into eating them with the kesar pista delight.

"It's a flavour they have enjoyed with kulfi for years; so I am guessing they might take a liking to doughnuts with this. And it's just something new, different from the usual barfis and laddoos," said Singh.