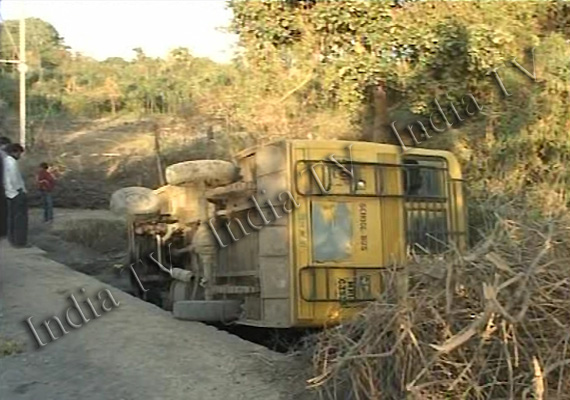 Indore, Feb 8: A bus carrying 60 school children fell from a bridge into a drain near Khandel village in Indore district this afternoon. Local villagers broke the windowpanes and rescued the injured children.

As the driver had left the job yesterday, the school principal was himself driving the bus. He fled from the spot leaving the howling children to their fate.

25 children have been admitted to a private hospital, while 18 children have been discharged after first aid.

The bus belonging to Saraswati Gyan Mandit in Pedmi village, 40 km from Indore, was going to drop the children at their homes.

The bus had sitting space for 18 children, but nearly 60 children were crammed inside the bus. The children's ages ranged from four year to 13 years.

Villagers said, principal Upendra Kachhwaha was driving the school bus at a higher speed and was speaking over his cellphone, when the bus ran over a stone, lost balance, and fell into the drain.

The bus was in a pitiable condition because of which the driver had left the job yesterday.

Dr K K Saxena at the Index Hospital said, most of the children suffered injuries to their head, hands and legs. Three children had major head injuries and are undergoing surgery.