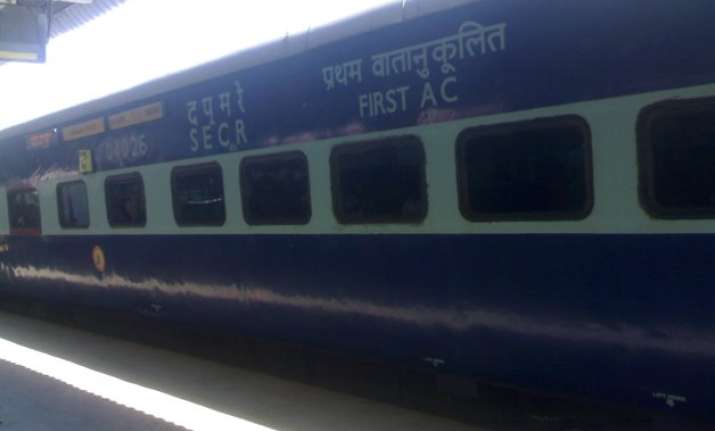 New Delhi: Travelling in Indian Railways' AC First Class may become dearer soon. According to a Times of India report, the Ministry of Railway is exploring option to scrap concessions being offered to senior citizens and several other categories in the highest class.
The move, aimed to boost Indian Railways' revenue receipts, will require the approval of high political leadership and if approved, it is most likely to figure in the upcoming Rail Budget, to be presented on February 25.
Extending concessional travel facility in 53 categories of beneficiaries costs the Indian Railways about Rs 1400 crore a year. The discounted categories include - senior citizens, doctors, war-widows, pregnant women, journalists, sportsmen, disabled, artists etc.
AC First Class is the highest class of travel Indian Railways offers on normal trains. It is also the most expensive class, where the fares are on par with airlines. After discount, the fare of AC First Class is marginally higher than AC-II tier.
"If a senior citizen can afford to travel by AC First Class, why does he need concession?" a senior railway official was quoted as saying in the TOI report.
The official also said that Indian Railways is expected to run on commercial lines and provision for free or concessional travel has 'adversely affected finances and it is time for course correction'.
The official further said that is a move to ask other ministries to bear the concession burden. For ex - if the beneficiary is a sportsperson, Sports Ministry should bear the cost.
Senior citizens constitute about 80 per cent of the beneficiaries and the Indian Railways recently amended the rules to prevent misuse of concessional facilities meant for them.
The latest proposal has come close on the heels of Finance Ministry decision to reject the request of Indian Railways for Rs 32,000 crore as revenue grant, sought to tide over the impending impact of the 7th Pay Commission recommendations on the public transporter.
In a communication to the Railways, Finance Ministry had categorically rejected the demand, and had asked the public transporter to raise its own resources to manage the finance.
According to the 7th Pay Commission report, the annual financial impact on Indian Railways will be approximately Rs 28,450 crore in addition to the normal growth which will require to be built into the Railway Budget 2016-17.