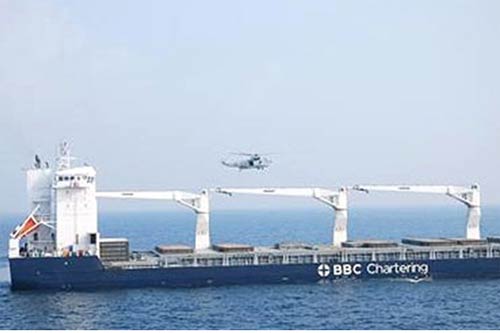 The Indian Navy used its 'Sea Dragon' to scare off pirates who captured a merchant ship 450 nautical miles from the Mumbai coast on Thursday. This simple but effective ruse helped the Navy to avert a potentially dangerous situation, reports Mumbai Mirror.
At 6 am on Thursday, the Navy got information that MV BBC Orinoco had been attacked by pirates. It realized quickly that its ships would not reach the captured vessel, with a crew of 14, in time to save it.
The pirates could harm the crew, move or damage the ship in the interim. While it dispatched INS Delhi and INS Veer with the knowledge they would take 12-14 hours to reach the merchant vessel, it also sent the 'Il 38 SD' aircraft to keep a tab on the movement on board the captured ship. The Sea Dragon reached the ship in a couple of hours and hovered over it for several more to keep it safe.
The Sea Dragon took off from its Goa base around the same time INS Delhi and INS Veer left for the merchant ship.
A source in the Indian Navy said, "The idea was to let the pirates on board think they could be attacked any time," said a source in the Indian Navy.
It was only at daybreak on Friday that INS Delhi reached the captured ship and Marine Commandoes (MARCOS) slithered down to the board from a helicopter Sea King.
The official statement issued by the Defence said, "MARCOS took the crew, who were locked in compartments, to safety, while the helicopter provided air borne fire support."
The use of the Sea Dragon paid off because the pirates fled without damaging the vessel or hurting the crew. Implements such as crow bar and knives were found aboard the ship.
The chartered vessel owned by Beluga Shipping is in safe waters and has resumed the voyage.
Reedereigruppe Freese, manager of the ship, said the vessel and the crew of five from Ukraine and nine from Philippines are safe.The crew members had locked themselves in the engine room and steering compartment.
They communicated with agents at UK MTO Dubai who alerted Indian Navy for assistance.
Apart from Missile Corvettes INS Veer and capital ship INS Delhi with a team of MARCOS, the Navy also sent a Dornier aircraft on standby.This is a second instance in a month when a Beluga ship has evaded a hijack.
On October 24, 12,744 - dwt Beluga Fortune with 16 crew members on board was attacked in the Somali Basin.The ship emerged unscathed because of an interception by the Royal Navy, United Kingdom.
The Sea Dragon
The Il 38 SD Sea Dragon has a very good range and can fly without refueling for a very long time. Sea Dragon is an anti submarine aircraft and has range of 9,500 km or 5,000 odd nautical miles. At its top speed to 650 km/hour the aircraft