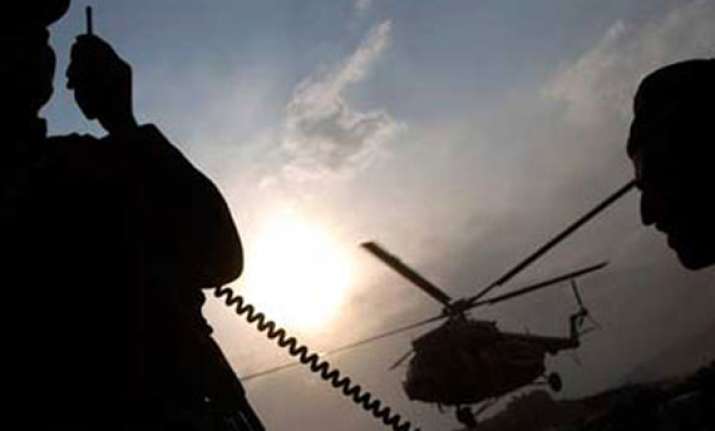 Islamabad/New Delhi, Oct 23:  An Indian Army helicopter strayed into Pakistan-occupied Kashmir (PoK) today and was forced by Pakistani military to land and four onboard Army personnel taken into custody but the crisis was quickly defused and the chopper allowed to return to India.

Military and diplomatic channels of the two countries were activated and the Army Aviation Corp's Cheetah helicoper with three middle-level officers and a JCO on board was released and returned safely back to Kargil just before sunset less than five hours after it inadvertently crossed the Line of Control(LoC) due to "inclement" weather.

A relieved India said it greatly appreciated the manner in which Pakistan worked with it in "resolving" the matter.

"We are relieved that our officers and helicopter are back in India. We greatly appreciate the manner in which Pakistan worked with us in resolving the matter," Ministry of External Affairs said in New Delhi.

Pakistani Army said the chopper was "forced to land" in Olding sector near Skardu, about 20 km from the LoC, once it "violated" the airspace over their country and the four personnel were taken into "military custody" and questioned.  They were later released.

Pakistan's chief military spokesman Maj Gen Athar Abbas alleged that the Indian helicopter had intruded "deep" into Pakistani airspace but did not say how it was forced to land.

An Indian Army statement said the helicopter "inadvertently" crossed over into PoK in the Gultari sector, due to "inclement" weather.

The statement said the chopper was on a routine administration and maintenance flight moving from Leh to Bimbat in Drass sector to rectify another Cheetah helicopter which had landed there due to tehnical snag.

"An early intervention of diplomatic and military channels saw the matter being resolved amicably and by late evening the helicopter has landed back in Kargil," it said.

The crew comprised Maj Raja(pilot), Maj Kapila (co-pilot) and maintenance personnel—Lt. Col Verma and Sub Akhilesh Sharma.

The Director General of Military Operations(DGMO) of India and Pakistan were in constant touch, Army sources said.  The Indian High Commission in Islamabad was also in touch with the Pakistani side, the Ministry of External Affairs said.

Indian Army sources said the chopper entered the airspace over PoK at around 1320 IST and returned to Kargil at 1800 IST.

Indian authorities across the LoC had been informed about the incident, Abbas said, adding the detained Indian personnel were safe.