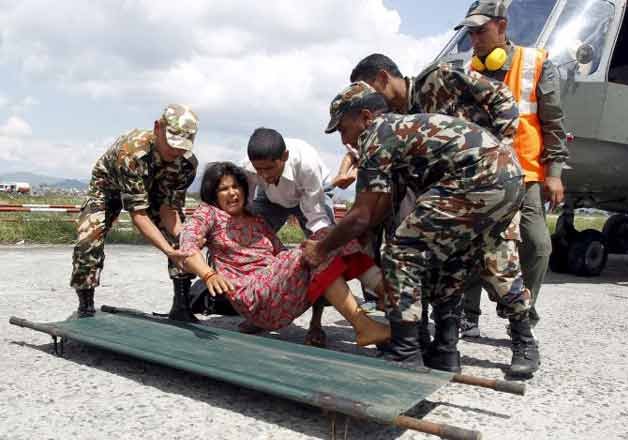 New Delhi: Indian Army has set up a base at Barpak village near Lamjung in Gorkha district of Nepal, the epicentre of Saturday's earthquake, to intensify relief and rescue efforts in quake-hit Himalayan nation that has been named 'Operation Maitri'.
An Army engineering task force used earth-movers to open up a road from Kathmandu to Pokhara to ensure the supply of relief materials and equipments to the interiors. Earlier, the only route to get the materials inside was by air.
Satellite communication link has been established between the Nepal Army headquarters and Indian Army engineer task force, which was inducted on Sunday.
"Barpak is the actual epicentre of the earthquake. We initially saw 150 bodies from helicopters. Our teams are gradually reaching inaccessible areas to open roads, clear bridges and rescue people, apart from setting up field hospitals, engineering taskforces and communication hubs," an Army official said.
India Army which has a strong connection with Himalayan country through its Gorkha soldiers is working in close conjunction with Indian Air Force (IAF), National Disaster Response Force (NDRF) and also with its Nepalese counterpart.
The army's expedition team at Everest Base camp is assisting in evacuation and rendering medical aid. Helicopters were being used to evacuate people and 203 civilians had been evacuated to safe areas by joint efforts of NDRF and IAF.
Indian Army has around 28,000 Nepalese Gorkhas serving in the Indian Army, with another 1.25 lakh retired ones in Nepal. "They will be our eyes and ears in directing the relief operations," the officer said.
Army Chief General Dalbir Singh Suhag is also a Gorkha Rifles officer.
While the main taskforce headquarter has been established in Kathmandu under Major-General JS Sandhu, sub-headquarter is now fully operational at Barpak under Brigadier J Gamlin. Both officers are also from Gorkha Rifles regiment.
"Four Army Dhruv advanced light helicopters and two Cheetah choppers are also being inducted into Pokhara for rescue and relief operations. We are ready to assist Nepal in whatever it wants. Hotlines have been set up between the two armies," said another officer.
Saturday's 7.9 magnitude earthquake, worst in last 81 years, so far has claimed over 4000 lives across Nepal.
Meanwhile, nearly 5,400 Indians have been brought back from the neighbouring nation as India continued its relief and rescue efforts.
Minister of State for External Affairs General (retired) VK Singh, who flagged off relief materials for quake-hit Nepal today, said the government is working actively to assist the neighbouring nation. "The government is working actively to offer relief to Nepal. But as a citizen it is our responsibility as well to support the government in helping Nepal," he said.
"The situation is such that the people, who have lost their homes, must be given relief immediately. The government is trying its best to evacuate the people," he added.