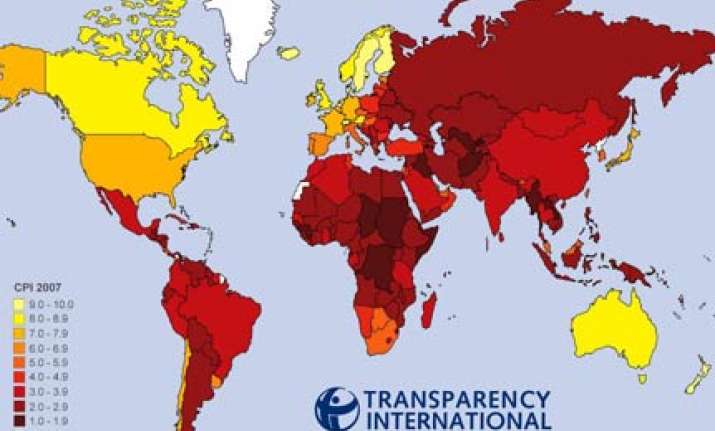 New Delhi, Oct 26 :  India has slipped to 87th spot in Transparency International's latest ranking of nations based on the level of corruption, with the global watchdog asserting that perceptions about corruption in the country increased in the wake of the scam-tainted Commonwealth Games.
Transparency International's 'Corruption Perception Index' report covering the public sector in 178 countries shows that India fell by three positions from its ranking of 84th in 2009.
With an integrity score of 3.3, India is now ranked 87th in the world in terms of corruption. Neighbouring China is ahead of India in the list at 78th place, with a score of 3.5. It was at 79th position in 2009.
"India has gone down in the ranking as well as integrity score and this is a matter of concern and regret. It appears that the level of governance has not improved despite India having a skilled set of administrators," Transparency International India Chairman P S Bawa said here.
The rankings, on a scale of 0 to 10, are based on the extent of corruption and each government's ability to punish and contain corrupt activities, among other criteria. A score of zero is perceived to be highly corrupt while 10 would indicate the lowest level of corruption.
According to the report: "The perception about corruption in India seems to have increased primarily due to alleged corrupt practices in the recently held Commonwealth Games (CWG) in Delhi."
As many as four investigating agencies -- the Central Vigilance Commission (CVC), Enforcement Directorate (ED), Income Tax Department and Comptroller and Auditor General (CAG) -- are looking into allegations of corruption against the organisers of the CWG, which concluded here earlier this month.
The top three countries with the lowest level of corruption globally, as ranked by Transparency International, are Denmark, New Zealand and Singapore.
Denmark was ranked first in the report, with an integrity score of 9.3, while New Zealand and Singapore came second and third with a similar score.
Bhutan was the best performer in the South Asian region and was ranked 37th, with an integrity score of 5.7.
However, other SAARC nations are ranked below India.
Pakistan is ranked at 143th in the list, with an integrity score of 2.3, while Bangladesh is at 134th, with a score of 2.4. Sri Lanka was ranked 91st in the list, with an integrity score of 3.2, while Nepal was 146th (2.3) and Maldives joined Pakistan at 143th place (2.3).
The world's largest economy, the USA, garnered an integrity score of 7.1 and was 22nd in the list.
Among BRIC countries, Brazil was at 69th position with a score of 3.7 and Russia was 154th, with an integrity score of 2.1.
Transparency International is organising Anti-Corruption Day on December 9 to sensitise the public on this issue.PTI