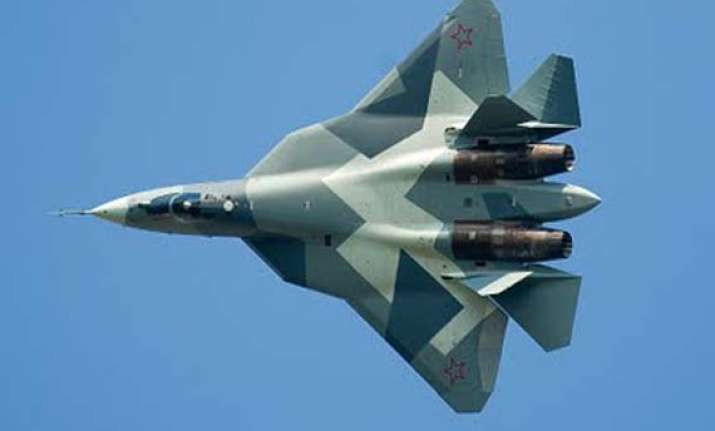 New Delhi, Dec 24:  Boosting their military ties, India today inked deals worth around three billion US dollars with Russia to procure 42 new Su-30 MKI combat aircraft and 71 Mi-17V5 medium-lift helicopters.
The contracts for acquiring these weapon systems were signed during the 13th India-Russia Annual Summit after talks between Prime Minister Manmohan Singh and visiting Russian President Vladimir Putin here.
At the Summit meeting today, a joint venture agreement was also inked between Elcom Systems Private Ltd. and OAO "Vertoleti Rassi" (JSC "Helicopters Russia"), which aims to set up a modern industrial facility for manufacturing Russian Mi and Kamov choppers in India.
Under one contract worth around USD 2.2 billion for licence production of 42 Su-30MKIs, Russia will deliver technical kits to the Hindustan Aeronautics Limited (HAL) to assemble them here.
With this contract, the number of Su-30MKIs in the IAF would go up to 272 in next four to five years with 170 of them already at present in the force.
These multi-role frontline aircraft could also be equipped with Indo-Russian joint venture BrahMos supersonic cruise missiles.
Under the contract for 71 Mi-17V5 choppers, 59 of the machines would be given to the IAF while the remaining 12 would be used by paramilitary forces in their anti-Naxal operations.
These helicopters would be used by the IAF to replace its existing fleet of older versions of Mi-17 and Mi-8 aircraft in its inventory.
This is a follow up order by the IAF for the new 'V5' version as it is in the process of inducting 80 such machines for which orders were placed around three years ago.
Already more than 40 of them have been inducted into the force at locations including Bathinda in Punjab, Srinagar and Bagdogra in West Bengal.
India and Russia inked as many as 10 pacts, including defence deals worth around USD four billion, as their leaders undertook an extensive review of bilateral cooperation, especially in the field of nuclear energy here today.
Prime Minister Manmohan Singh and Russian President Vladimir Putin held comprehensive talks on all key bilateral issues, including defence, space, trade and investment, science and technology, education, culture and tourism.
After his talks with Putin during his brief visit of nearly 18 hours, Singh said, "We also discussed regional and global issues, on many of which there is a marked congruence in our approach.
"The development of our nuclear energy programme has been a key pillar of our strategic partnership," the Prime Minister said while noting that construction of Unit 1 of the Kudankulam NuclearPower Project was now complete, and power generation will commence shortly.
He also said India looks forward to the completion of Unit 2 next year.
"Negotiations for the construction of Units 3 and 4 at Kudankulam have made good progress. We intend to continue implementing the Roadmap for cooperation in the nuclear energy sector that was signed during President Putin's visit in 2010 as then Prime Minister of Russia," Singh said.
About their discussions on regional and international issues, Singh said, "India and Russia share the objective of a stable, united, democratic and prosperous Afghanistan, free from extremism, terrorism and external interference.
We reviewed the ongoing developments in Afghanistan, and agreed to work together against threats posed by extremist ideologies and drug trafficking".