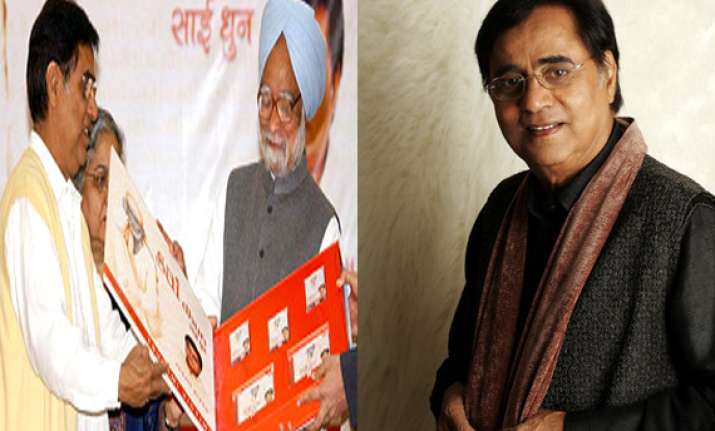 New Delhi, Oct 10 : Music lovers in the Indian sub-continent were shocked to hear the sad demise of legendary ghazal singer Jagjit Singh on Monday morning.
Prime Minister Manmohan Singh led the nation to condole the demise of  the ghazal singer, saying  Jagjit Singh  would be remembered for his "golden voice". Noting that he is among Jagjit's admirers, the Prime Minister said he shared the sorrow of his fans. 

In his condolence message, Singh said by "making ghazals accessible to everyone, he gave joy and pleasure to millions of music lovers in India and abroad....he was blessed with a golden voice".

The Prime Minister said the ghazal maestro's music legacy will continue to "enchant and entertain" the people.

Bollywood celebrities Lata Mangeshkhar, Mahesh Bhatt, Shyam Benegal, Javed Akhtar, Bappi Lahiri, and Pankaj Udhas were among those who said it was the saddest day for India's ghazal singing.

In Pakistan's capital Islamabad, a reputed cafe had been playing Jagjit Singh's ghazals for the past several weeks, as people prayed for his  recovery, which ultimately did not.On the menu  at the  popular cafe Chay Khana were not just several dozen varieties of tea but ghazals of  Jagjit Singh, reported Times of India.

Singh suffered brain haemorrhage shortly before a performance with Pakistani ghazal singer Ghulam Ali in the last week of September."Our hearts just missed a beat," reads the title of special paper mats placed on all tables at Chaaye Khana cafe in the aftermath of Singh's ailment.

"For over 40 years Jagjit Singh has given the music of the subcontinent a taste that has introduced the conventional ghazal singing with a modern form that is truly his own -- making him the pioneer and the most successful recording artist outside the realm of Indian film," states the glossy mat with a picture of Singh singing.

Patrons  were treated to Singh's ghazals throughout the day, ranging from 'Tum Itna Jo Muskura Rahe Ho' to his more recent hits from Bollywood like 'Bari Nazuk Hai'. Pakistani news channels on hearing Jagjit Singh's demise immediately began playing soulful ghazals rendered by the maestro. 
Legendary singer Lata Mangeshkar said that Singh's death was a big loss for the music industry. "I knew him well. I hoped he would come out of the coma. But the God willed otherwise."

Stating that Jagjit brought ghazals into the mainstream, Lata said, "He worked very hard... sang from the heart.  Listening to him, people got intoxicated." Asha Bhosale said hearing Jagjit's ghazals brought peace to the mind. "Listening to him was a soothing experience. If one wanted to get away from everyday stress, the best way was to play a Jagjit Singh record."

Asha described 'Sarakti Jaye Hai Rukh Se Nakab Ahista..' as her favourite Jagjit ghazal."I feel sad for his wife Chitra. She lost a son earlier, and now husband. She is very lonely now," Asha said.  "Jagjit Singh's death has caused an irreparable loss to the Hindi film and music industry," said noted lyricist Javed Akhtar. He described Jagjit Singh as an extraordinary ghazal singer.

"I first heard him when I attended an event at IIT Kanpur named 'Music Night by Jagjit and Chitra' while in school. He was an icon. There is nothing I can say to console his wife (Chitra). All I can say is that he will never be forgotten. I pray to god to give her the strength to recover from the loss," classical vocalist Shubha Mudgal said.  An emotional Usha Uttup recalled her time with Singh. 

"I can't believe it. It was because of him that ordinary men could enjoy good Ghazal. We worked together in a jingle when I was just staring my career.

"He is the person who introduced the 12 string guitar and the bass guitar in ghazal singing, in a way no one could. I spoke to him recently. What a human being. It is a great loss."

Fellow ghazal singer, Pankaj Udhas,described Jagjit as an "extremely versatile singer". "I am devastated after hearing the tragic news," Udhas said on phone from Pune.
President Pratibha Patil today condoled the death of 'Ghazal King' Jagjit Singh and said his unique style of singing brought out the deepest and inner most feeling.

In her condolence letter to his wife Chitra Singh, the President said Singh was "known for his unique style of Ghazal singing, which brought out the deepest and inner most feeling.

"Shri Jagjit Singh connected instantaneously with his audience wherever and whenever he performed in India and abroad," the President said.

Patil recalled the performances of the "Ghazal King" in Rashtrapati Bhavan and appreciated his kindheartedness.

"Audiences had two occasions in Rashtrapati Bhavan to feel his magic of singing when he performed over the past few years. Popularly known as the Ghazal King, he also had a large heart due to which he also was known to give assistance to several philanthropic endeavours," she said.