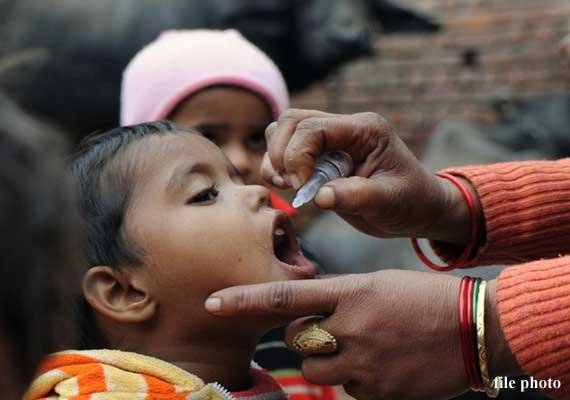 New Delhi: India today offered Pakistan "full cooperation" for eradicating polio from its soil and said it is a "cause for concern" for it that the neighboring country accounts for 85 per cent of the world's polio cases.
Union Health Minister Harsh Vardhan noted that previous attempts by the two countries for cooperation on this front have made no "significant progress" and lauded Pakistan's latest initiative to fight polio, saying a similar strategy paid off in India, which has successfully removed the crippling virus.
"I have been through the plan (Pak's) and find that the script is perfect. Pakistan has resolved to set up monitoring cells at the grassroots level. They are also talking of involving social groups, a strategy which worked wonderfully in India," he said on the occasion of World Polio Day.
Extending cooperation to Pakistan, Vardhan said India's social mobilization network for fight against polio has been lauded by leading international organizations, WHO, UNICEF, Rotary International and United States Centre for Disease Control.
An official statement from the Health Ministry said the plan was originally conceived in Delhi in 1994 when Vardhan was the state's health minister.
"Pakistan today accounts for 85 per cent of the world's polio cases today, a cause of concern for India," it said.
Recalling that the two countries had talked of institutionalizing cooperation on polio eradication through a joint working group following the foreign minister-level talks between them in September 2012, he said there was no significant progress on this front.
Vardhan stressed that India was exposed to the risk of polio outbreak again as the disease was "just a bus ride away" due to its presence in Pakistan.
Globally, more than 40 countries since 1998 which had been polio-free have suffered from one or more importations of wild polio virus.
The ministry will introduce the injectable polio vaccines in the Universal Immunization Programme from 2015, replacing oral vaccines.