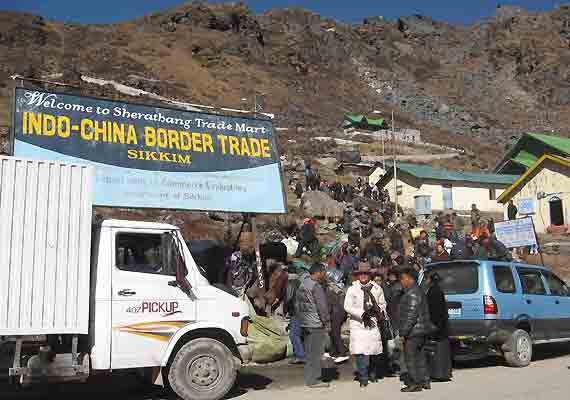 Gangtok: The eighth season of India-China border trade via Nathula ended for the year today. The seven month trade started in May this year and took place four days a week.
On the last day, 60 trucks arrived from China at Sherathang Trade mart and 50 trucks went from Sikkim to China at Rinchenpong Trade Mart.
According to P. T. Euthenpa, Commerce secretary, till Nov 27, India traders officialy exports goods worth Rs 7.84 cr, up from Rs 6.06 cr last year. Imports from China amounted to Rs 1.16 cr.
Chinese Customs official Li Ping along with traders crossed the border at Nathu La during the closing ceremony and were hosted at lunch.
Though there is a list of officially traded items, the volumes were high this year. Trade sources in Sikkim said, this time huge quantity of non-listed items were exported/imported and the trade was in the region of over Rs 1500cr.
India-China border trade at Nathu La began in 2006 as a peripheral trade between both countries, but still there is no proper checking system in place in Mathu La as the scanners have not been set up.
97 per cent of traders coming from China are women, but there is no woman police force posted at the check post.