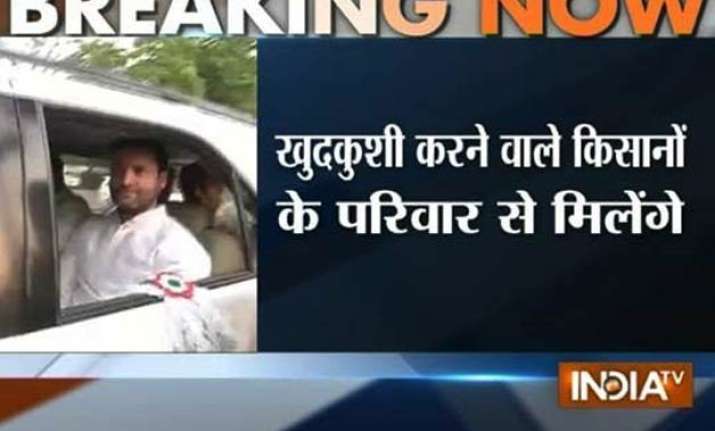 1. Rahul Gandhi to undertake day-long padyatra in Amravati
Congress Vice President Rahul Gandhi will today undertake a 15-km day-long padyatra in Amravati division of Vidarbha region in Maharashtra, for highlighting the farmers' woes.
2. Finance Bill to be taken up in LS
Finance Bill will be today taken up in the Lok Sabha, the lower house of the parliament.  The Constitution Amendment Bill in respect of GST would be taken up next week.
3. WB bandh: Govt directs employees to report for duty
West Bengal government directed its employees to report for duty today, the day Left parties and BJP have called a statewide bandh in protest against terror and violence in the just-concluded civic elections.
4. Nationwide transport strike to hit normal life
Protesting against the Road Transport and Safety Bill 2014, all road transport workers will reportedly be on a strike today.
Various trade unions, including All India Trade Union Congress (AITUC), Centre of Indian Trade Unions (CITU), HMS, INTUC, LPF, BMS, AICCTU, and others have extended their support for the 24-hour-long strike, starting from midnight.
5. Amit Shah to hold press conference
BJP National President Amit Shah will today hold a press conference in the evening at 3:00 PM at 11, Ashok Road.
6. Karnataka CM to meet PM Narendra Modi
Chief Minister Siddaramaiah has sought fresh appointment from Prime Minister Narendra Modi for today.  He will meet the prime minister along with an all-party delegation from the State to convince him about the importance of the proposed Mekedatu drinking water project for Karnataka.
7. Delhi Court to consider complaint against Smriti Irani
A Delhi court fixed April 30 for considering a complaint filed against Union HRD Minister Smriti Irani for allegedly giving "false" information about her educational qualification in her affidavits filed with the Election Commission of India.
8. Defamation row: Delhi court to hear Nitin Gadkari's plea against Digvijaya Singh
A Delhi court will today hear the arguments on the issue of framing of charges on a criminal defamation complaint filed by Union Minister Nitin Gadkari against senior Congress leader Digvijay Singh.
9. BJP's membership drive to end today
Bhartiya Janata party's ambitious online membership drive will meet its deadline today. The saffron party had extended the deadline by a month to April 30 even as its membership swelled to nine crore members.
 According to various  states, including Madhya Pradesh, Chhattisgarh and Maharashtra, had sought an extension of the membership drive as they were busy in assembly polls and required more time to aggressively pursue the drive and add more members and the party has acceded to their demand.
10. Mamata Banerjee to attend Nirmal Bangla Diwas programme
West Bengal Chief Minister Mamata Banerjee will today attend the Nirmal Bangla Diwas programme at Nadia.
At the program, she will announce Nadia district as first Indian district to have toilets in every home. Students will form a human chain in several districts of West Bengal to support Nirmal Bangla Diwas
11. Congress MLAs to gherao Punjab CM's residence
Congress MLAs will today gherao Punjab Chief Minister Parkash Singh Badal's residence on farmer issues.