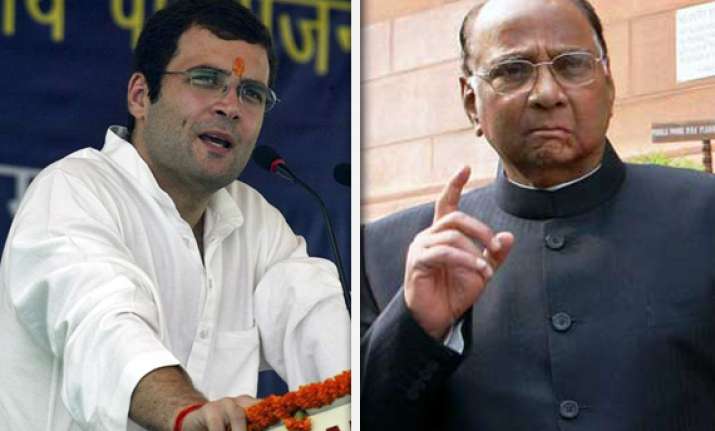 New Delhi, Jan 25: If Congress does not do well in Assembly elections in Uttar Pradesh, the blame may go to Rahul Gandhi, NCP chief Sharad Pawar said today.

The Agriculture Minister, whose party is a key partner in the UPA, saw no possibility of Gandhi being immediately projected as the PM candidate even if Congress does well in the key state.

"Congress party has projected him (Rahul Gandhi). He is the main campaigner, not Digvijay Singh nor any other leader ......Congress party may say anything but public at large and those who make analysis of elections, they will definitely pass the buck to him if he does not deliver," Pawar told CNN-IBN when asked whether Gandhi will be facing flak if Congress does not do well in the polls.

Congress, on its part, sought to downplay Pawar's remarks with AICC spokesman Abhishek Singhvi saying it was "very unfair" to suggest that any one person should bear discredit or credit.

"I don't know whether Congress will project him immediately even after getting good results. I don't know whether Congress will immediately project him...They might wait for next elections also", Pawar said when asked whether Gandhi will be projected as the next PM candidate soon after the assembly polls.

Replying to a question, he said "as of today, I don't see any change in the national leadership....Basically Prime Ministership".

Pawar, who this year is completing 45 years in electoral politics, announced his retirement saying he would not contest the next Lok Sabha elections.

The NCP supremo said that in Uttar Pradesh it looks like Samajwadi Party has "more advantage"of getting support from others in post-poll scenario. "If they succeed in forming a government, it will be a boost for Congress. From UPA's stability angle, the situation will improve".

"I don't know who will support Mayawati. If Mayawati's party is the single largest party, only BJP will support because Mulayam Singh's party will not support her. No question of getting support from Ajit Singh and others. Nitin Gadkari said somewhere ....BJP will not support Mayawati to form government...", Pawar said.

He said Assembly polls in the five states are "not very important" for the stability of the UPA.

Noting that UP and Punjab are only two major states among the poll-bound states, he said it looks like Congress will come to power in Punjab, which will be "very beneficial" for the Centre.

On Rahul, he said "one thing we have to accept is that he is travelling like anything. He is addressing many meetings.....If Congress improves its position, definitely credit will go to him. It also looks like Congress has taken a conscious decision to project him as the star campaigner".

On electoral politics, he said it was "enough" for him as he was continuously getting elected since 1967. "It is the responsibility of people like me to encourage younger people and younger leadership will continue to work in political party."

Asked whether he was thinking of projecting anybody as the future leader in NCP, Pawar said "I don't believe in projecting anybody. It is a sort of feudal approach. Suppose somebody is heading a kingdom, then next generation coming and taking over, it is different. It is democracy. I cannot say who will ultimately come".