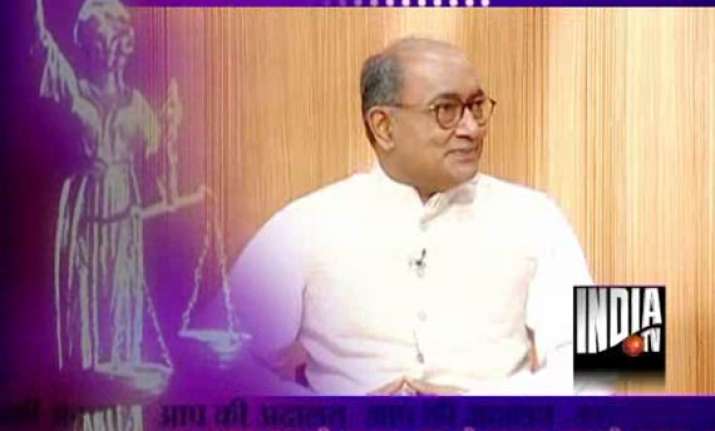 New Delhi, Jun 25: Congress general secretary Digvijay Singh said today that he wanted to see Rahul Gandhi as Prime Minister in his lifetime, but he quickly added that Prime Minister Manmohan Singh has peformed as a successful PM.
 
Replying to questions in Rajat Sharma's talk show on India TV 'Aap Ki Adalat', Digvijay Singh said : "Main apne jeevan kaal me  Rahulji ko PM dekhna chahta hoon, yahi meri iccha hai"  ( I want to see Rahulji as prime minister in my lifetime, this is my wish)

Asked by Rajat Sharma how long will the country would have to wait since you are going to live a long life, Digvijay Singh replied:  "Yeh nirbhar karta hai rajnitik paristhiti par" ( it depends on the political situation ), but the  party general secretary quickly added to say, Prime Minister Manmohan Singh has  been an extremely successful PM.
 
"Whether as academic, or bureaucrat or as Finance Minister or Prime Minister, he has done the country proud. In 2009, the Congress won the Lok Sabha polls from most of the metros  and the credit goes to Manmohanji and his policies."
 
The Congress general secretary lashed out at Swami Ramdev saying he was a  "maha-thug" (cheat).
 
"He is not a saint.  A saint cannot be a businessman. He has made yoga into a business collecting money for people sitting  in the front rows, collecting money for visiting houses. I stand by my comment that he is a 'maha-thug'. ...He ditched the man who gave him shelter,  he ditched  the man who taught him yoga and he ditched the one who taught him Ayurveda. He deceives people promising to cure cancer and diabetes", said Singh.
 
The Congress leader said, Ramdev spent Rs 18 crores on the huge tent in Ramlila Maidan by promising to hold a yoga camp and then sat on dharna. "He first accepted an agreement with the ministers at Claridge's hotel and then changed his stance  at Ramlila Maidan where he instigated his supporters".
 
On Anna Hazare's threat of going on indefinite fast from August 16, Singh clarified that he had never stated that Hazare would get the same treatment that Swami Ramdev got. It is the administration which will take the call, he said.

"I will request Annaji with folded hands not to sit on fast, wait for the Cabinet draft to go to Parliament, and from there to the Parliament Standing committee, which will invite opinions from the general public. Five persons sitting in a drafting committee cannot claim to represent 100 crore Indians", said Singh.
 
The Congress leader said, the Lokpal cannot be given powers to dislodge an elected Prime Minister. "We should understand an elected PM cannot be dislodged by an individual, who is himself not elected, and who could come under external pressure or be driven by personal prejudice. There has to be a defence mechanism in place."
Singh made it clear that he was against both communal Hindus and communal Muslims.  "Our fight is against the ideology which tries to create animosity between Hindus and Muslims.
 
"Some detained RSS activists have admitted before the police that they were involved in two blasts in Malegaon, in the Modasa blast, in Samjhauta Express blast, in the Ajmer Sharif blast and in the Mecca Masjid blast in Hyderabad. Even  Sunil Joshi, the RSS activist who was the key figure behind the blasts was killed by another RSS activist. There has been no blasts in the country since the time these people have been arrested", claimed Singh.
 
On Uttar Pradesh, Singh said, the two major mistakes Congress had committed in the past was: one, allowing Babri mosque to be demolished and two, pre-poll alliance with the BSP, of which the latter took advantage.