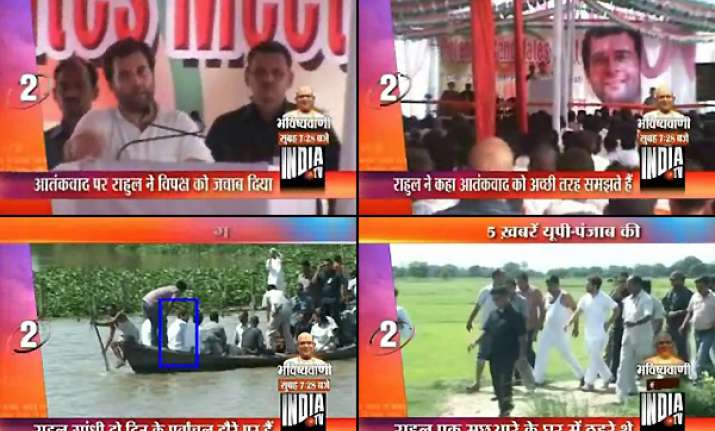 Gorakhpur, July 22 : Congress general secretary Rahul Gandhi has lambasted  the opposition for questioning his remarks about Mumbai serial blasts.

Without taking any political party's name, Rahul Gandhi said: "Terrorists killed my father…terrorists killed my grandmother….I have a good understanding of terrorism".

On the day following the July 13 Mumbai serial blasts, Rahul Gandhi had remarked at a press conference in Bhubaneswar that it is very difficult to prevent every terror attack.  "Even if 99 per cent of the terror attacks are foiled, one per cent may succeed", he had said.

Addressing a gathering in Mau on Thursday, Rahul Gandhi said  that Congress in general and he and his family in particular have suffered the worst impact of terrorism.

And so, they do not need any lessons from those, who in the past had helped militants  to reach Kandahar.

In an unusually offensive mood, Rahul Gandhi sent the political temperature soaring with scathing criticism of scams and swindling during Mayawati's rule, which he categorically declared,  would have brought down the state government in a Congress-ruled state.

Expressing shock at the daylight robbery ('khuli chori') in the national rural health mission fund in UP, Rahul told mediapersons that NRHM happened to be only one of the centrally-sponsored programme, which has been put under scanner. There are other projects, which could have become cash cows for the rapacious BSP leadership.

Governments in Delhi, Haryana and Maharashtra would not have lasted a day had such incidents were reported from any of these states, Rahul Gandhi told the gathering.

The brazenness of the loot, he said , was shocking. "They seem to have thrown all caution to winds in their greed and siphoned off thousands of crores from the NRHM funds. The enormity of the amount already plundered could be astronomical, as lid has been blown off the NRHM alone so far," he said.

The main problem, which the state faced today, Rahul Gandhi said was corruption duly supported by the government.

"Till it was brought under check, UP would continue to be laggard in the development index," he said.

Meanwhile, on his journey in eastern Uttar Pradesh, Rahul Gandhi is making all possible efforts to become the common people's hero.

He stayed at the house of a fisherman and used a boat to go to one village to another.

On the second day of his visit to eastern Uttar Pradesh, Rahul Gandhi paid an unscheduled visit to Niwada village in Mubarakpur area of  Azamgarh  district and met members of the weaver community.

He was on his way to Ballia from Mau when he made the unscheduled halt and participated in a 'chaupal' or villagers' meeting.

The area, famous for its 'Banarasi' sarees, is home to weavers who have been involved in the occupation of weaving the traditional Indian garment for generations.

Gandhi held discussions with the villagers and their families about the problems faced by them. He also visited a few houses and talked to women.

The Congress leader is on a two-day visit to eastern UP to widen the party's base among youths and to galvanise people's support for the state Assembly elections to be held early next year.

He had yesterday visited Gorakhpur and Mau districts where he held meetings with the youth. He spent the  night at the guest house of the National Agriculture Research Centre in Mau.

After his Kisan Sandesh Yatra in western UP earlier this month where he undertook foot march from  villages in Gautam Buddha Nagar to Aligarh, this is his second mass contact programme in the state.

After staying for about an hour in the village, Gandhi left for Ballia district. He is also scheduled to visit Varanasi.