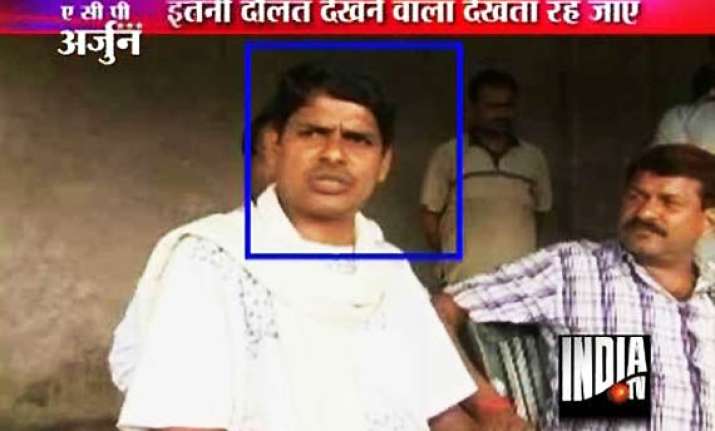 Patna/Dhanbad/Ranchi, Nov 25: Income Tax sleuths stumbled upon a huge cache of nearly Rs 100 crore assets this week concealed by a contractor working for Bharat Coking Coal Ltd in Jharia and Dhanbad coal mining areas.
 
But the most surprising thing was that the man in question, Lal Bahadur Singh, stays with his family, including his driver, in a small yellow-coloured dilapidated quarter in Dhanbad, while his chartered accountant stays in a plush bungalow.
 
It took Income Tax officials more than 48 hours to carry out the searches of Lal Bahadur Singh's assets.
 
First, the background:  Lal Bahadur Singh's father Ramdev Singh hails from Ballia, Uttar Pradesh. He had come to Dhanbad 10 years ago to work as a small-time clerk in the BCCL. 
 
His son Lal Bahadur Singh followed suit, and began working as a contractor in the coal mining behemoth.
 
Despite working for 10 years as a coal contractor, Lal Bahadur Singh suddenly had Rs 100 crore in his bank accounts and lockers during the last one year, Income Tax officials who went through his accounts disclosed. 
 
Income Tax officials got the primary  lead from FIU (Financial Investigation Unit), after which the raids were planned.
 
On Tuesday Nov 22 at 4:30 pm, Income Tax sleuths went to the dilapidated quarter and knocked, but the womenfolk inside refused to open the door,. The sleuths jumped into the quarter from the other side.
 
Simultaneously, Income Tax sleuths took charge of the local Bank of India branch, where Lal Bahadur Singh had his accounts and lockers. 
 
A third team landed at  Lal Bahadur's chartered accountant's home. The searches continued non-stop till Thursday  (Nov 24) 10 am, and the assets that were revealed will take months for the I-T department to compute and reconcile.
 
There were 17 bank accounts in the Bank of India branch in the names of Lal Bahadur Singh, his father Ramdev Singh, and other relatives Prabhavati Devi, Aarti Devi, etc.
 
The Bank of India branch had Rs 150 cr  deposits from all local customers in its accounts, out of which nearly Rs 100 crore belonged to Lal Bahadur Singh and his relatives in the form of savings accounts, current accounts and fixed term deposits.
 
All the transactions in the accounts have been freezed by the I-T department till the probe is over, said Y K Batra, director-general investigation.
 
Says Batra: "Rs 30-40 lakh cash were deposited at one time and some big-fund cheques were also deposited in the Singh family accounts".
 
Lal Bahadur Singh had floated 24 real and fictitious firms through which he was carrying out the black money transactions.  Nearly Rs 50 crore deposits were found in savings bank accounts, while Rs 20 crores were in current accounts and fixed deposits. I-t officials are also checking some other "suspected" bank accounts.
 
Lal Bahadur Singh and his brother Shatrughan Singh claim that the entire money was "white" and there was no hanky-panky in the transactions.
 
Only  Lal Bahadur Singh among all his relatives used to file his annual Income Tax returns, I-T officials said.
 
Yet,  Income Tax officials still fail to understand why a man having Rs 100 crore assets lived in a dilapidated BCCL quarter.