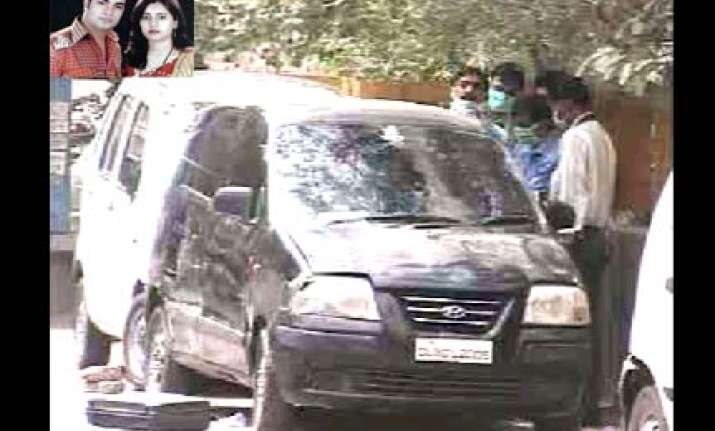 The case involving the murder of an inter-caste couple, suspected victims of honour killing, in the capital got murkier on Tuesday with the cousin sister of one of the victims, who too had married in a different caste, found shot dead in a car.
Police recovered the body of Sobha, cousin sister of Monica who along with her husband Kuldeep was allegedly murdered on Sunday by her brother Ankit and cousin Mandeep for marrying in another caste. 
Sobha is Mandeep's sister who had earlier eloped with a person outside her community. Police feel that the perpetrators of the crime could have been enraged over inter-caste marriages in the family which apparently started with Monica who was followed by her cousin sister Sobha.
Police said the car, which was found from  H-Block in Ashok Vihar Phase-I, in northwest Delhi belonged to a relative of Kuldeep. The car was missing since the murder of the couple. Mandeep and Ankit are absconding and police suspect that both are also involved in Sobha's murder.
Sobha was apparently shot in the head. Her body was lying in the back seat of the car which was locked from inside. The body was identified by her another brother Sandeep, police said.Mudit Bhatia, a resident of Ashok Vihar Phase-I, spotted the car from which blood was trickling down and informed the police.
Police said the car belonged to Kuldeep's cousin Rahul who had helped Kuldeep and Monica get married four years ago. He was then allegedly beaten up mercilessly by Monica's brothers for helping the couple.  Locals said that the car was parked there since Monday evening. But nobody had noticed who had parked the car. Police are looking for Mandeep and Ankit. PTI
Police sources said, Shobha had reportedly left her family to pursue a course in modeling.  Her sister Khushboo had also left the home earlier and had a love marriage with her lover Ravi. Khushboo is reportedly safe. Police has asked Khushboo and Ravi to be on alert and has also offered them security.
On June 17, Khushboo had written a letter to the Chief Metropolitan Magistrate stating that she had married Ravi of her own accord and was now staying with him. She had sent a copy of her letter to the Ashok Vihar police station. The decomposed body of Shobha was found from a Santro car bearing number plate DL 8CL 2006