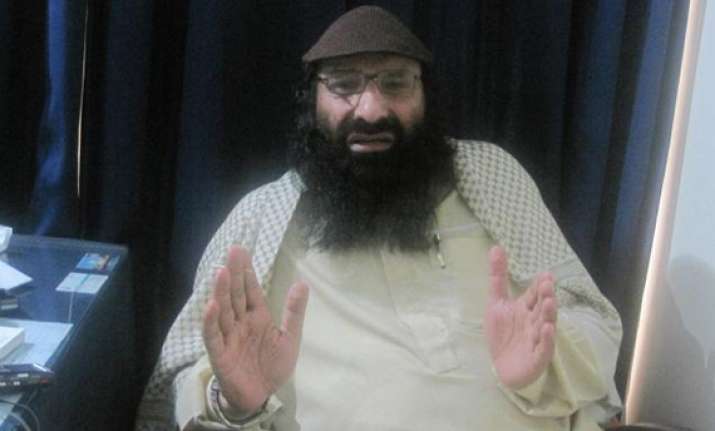 Muzaffarabad (Pak Occupied Kashmir) Apr 1: Hizbul Mujahideen chief Syed Salahudin, the chief of the United Jihad Council, has said that a free Kashmir must include Gilgit-Baltistan and Balakote.
In an interview to Times of India, Syed Salahuddin said, India was not a country, but a multi-lingual, multi-religious subcontinent, and it goes to the  credit of Indian leadership for managing to keep a country united despite such diversities.
Syed Salahudin has confirmed the widely-believed perception that the terrorist outfit had tactically withdrawn its cadres to border areas after massive street protests that rocked the Valley between 2008 and 2010 .
"When people came out on streets, India needed an excuse to crush them and turn Kashmir into a concentration camp. We realized that (it was the) time to change our strategy...knowing India would crush the unarmed civilians if they saw even two armed militants among the demonstrators," he told TOI in an exclusive interview on Friday at his Muzaffarabad home, where he has lived under Pakistani protection since he fled Kashmir after unsuccessfully contesting the infamous 1987 elections that triggered the insurgency.
"The United Jihad Council (PoK-based terror conglomerate) decided to shift militancy towards border areas," he said.
He articulated another policy shift, saying Kashmir should be granted independence if they favoured it over Pakistani domination. This view dovetails with Hizbul rival JKLF's position on the issue.
The two outfits were involved in a bloody confrontation over their diametrically opposite views on the issue.
Excerpts from the TOI interview:
Don't you think days of jihad are over in Kashmir?
Not at all. We feel we are getting more relevant. People turn to guns when all other options - diplomatic, moral and political - become ineffective.
What was the impact of 9/11 on Kashmir?
When the US declared the so-called war on terror, Pervez Musharraf was trapped. He also retreated on Kashmir. Pakistan is now bearing the brunt of Musharraf's pro-US polices.
What kind of support do you get from Pakistan's establishment?
Diplomatic, moral and political.
But many say that it's financial and strategic?
It's malicious propaganda. We generate our finances ourselves.
How would you define good things about India?
India is not a country, but a subcontinent. It's a huge multi-lingual and multi-religious country. If India has remained intact despite its social and cultural diversity, it is only due to its leadership. When the interest of the country is at stake, India's leaders forget their personal and party interests and become one.
Are you satisfied with the role of Muslim countries on the Kashmir issue?
There is no doubt about their laziness and cowardliness. Their support is limited to just lip service.
Do you have any reservations against Pakistan's MFN status to India?
The Kashmiri leadership has expressed its reservations. The Pakistan PM says that it is only for trade. But we believe it is only for strengthening the Indian economy. India is eyeing access to markets in Afghanistan and Central Asia.
What about the newly created Pakistani province of Gilgit-Baltistan?
We demand the pre-1947 boundaries for Kashmir. Gilgit-Baltistan and Balakot were parts of Kashmir.
Will Pakistan agree?
It will have to honor the decision of Kashmiris.
Why did you opt for militancy after fighting polls?
I took part in the 1987 polls from Srinagar against Ghulam Mohiudin Shah, a close relative of Farooq Abdullah. Shah won through massive rigging. When I protested, I was arrested. That convinced me and my supporters that enslaved people don't have any right to vote and compelled us to pick up guns for our rights.
When did you last meet your family?
I met my family twice between 1991 and 1994.