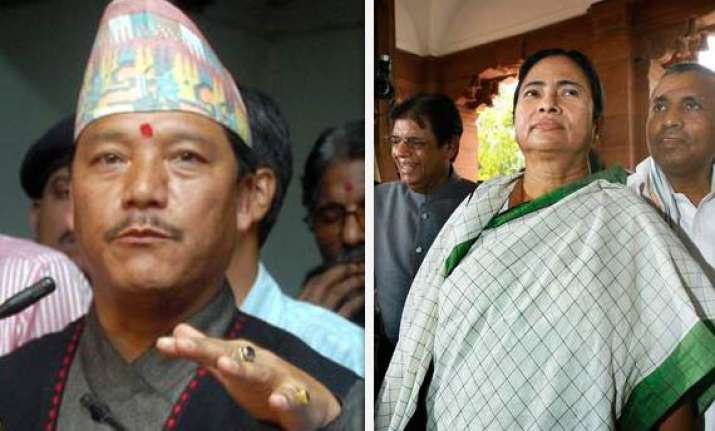 Sukna, Jul 18: The Centre, West Bengal government and Gorkha Jan Mukti Morcha on Monday signed a historic  tripartite accord called the Gorkhaland Territorial Administration accord, in front of a huge gathering at Pintel Village near here.

Home Minister P Chidambaram, West Bengal chief minister Mamata Banerjee and GJM supremo Bimal Gurung watched as the officials of  both governments and the GJM representative signed the accord.

The accord offers greater autonomy to the Gorkha ethnic group in hopes of ending their often violent agitation for a homeland in the Himalayan foothills.

GJM supporters clapped, danced and shouted slogans in favour of Gorkhaland, as the leaders assembled on the stage. Among the guests were BJP leader Jaswant Singh, elected on a GJM ticket to Lok Sabha from Darjeeling.

GJM leader Roshan Giri has said they have not abandoned the demand for a separate homeland but would wait for recommendations from a committee set up under the new accord.

The agreement envisions a hill council with elected representatives, a committee that will determine what Gorkha-dominated areas will be represented and the transfer of land records to the newly created administrative authority.

In the 1980s, the Gorkhas led a violent insurgency leading to the deaths of some 1,200 people.

In 1985, an accord was signed with the then Gorkhaland leader Subhash Gheising during Prime Minister Rajiv Gandhi's rule and a  Darjeeling Autonomous Hill Council was set up.

But after several years, Gheising, facing charges of corruption, began to lose popularity and the Gorkha Janmukti Morcha led by Bimal Gurung took over the movement. The GJM has been in near complete control of the Darjeeling Hills for the last several years, so much so, that the state government's writ over the hills had nearly run out, as the Left Front government strongly opposed the demand for a separate Gorkhaland state.

Experts say the agreement could bring development to the Darjeeling region famed for its tea gardens.

"Once peace returns, people will see the impact of the agreement," said Sanjoy Hazarika, head of the Center for North East Studies, a New Delhi-based think tank.

Darjeeling, a popular tourist and educational hub in India's northeast, had lost its sheen due to unrest fueled by frequent strikes by separatist groups. "If calm prevails, tourists should return," he told AP.

India's Gorkha community is from the same ethnic group as the Gurkhas in Nepal, best known for the regiments in the Indian and British armies.