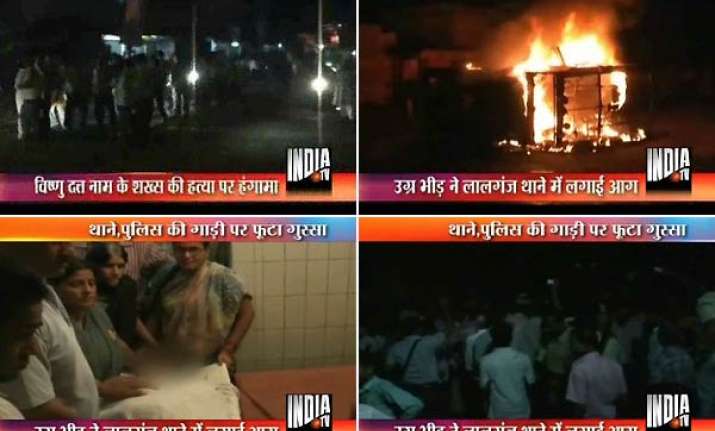 Basti, UP, July 26 : Angry mobs set fire to a police jeep in Lalganj and set fire to a police outpost near the district hospital, after Hindu Yuva Vahini leader Vishnu Dutt Ojha was shot to death by three motorbikers on Monday afternoon.

Ojha was the state convenor of Hindu Yuva Vahini. He was shot while he was walking  towards the main road from his house.

The motorbike riders had come from  Gandhi Nagar and they fired five bullets at him, killing him on the spot. Ojha was declared dead on arrival at the district hospital.  The killer fled towards Company Bagh square, witnesses said.

Ojha's  death sparked off panic across the crowded market place and shopkeepers pulled down shutters fearing vandalism.

Soon after this, a mob of hundreds gathered at the shootout site and resorted to violence accusing the police of their failure to curb crime in the state. A section of the agitated mob joined by some local traders targeted a bus.

A police jeep was torched and half a dozen vehicles including three state corporation buses were badly damaged in the violence that broke out. The mob indulged in stoning.

Police had to use force to disperse the violent supporters of slain leader and later assured prompt action against the killers.

The mob targeted other passing vehicles, smashing windscreens of private and government vehicles before additional police force and senior officers reached the site.

The sequence of events started at around 7.00 pm. Ojha was going to meet someone in Kotwali police circle of the city, when miscreants opened fire at him from behind.

Of the bullets fired, two bullets passed through his rib cage, while one hit his right leg.

Police quoting the findings of the initial investigations into the murder case said that prima-facie the murder appears to be a result of a property dispute that Ojha had for quite sometime now.

Police said, "Efforts were on to establish the exact motive of the murder and the identity of those involved in the murder including the assailants. The body of the deceased was sent for postmortem examination and a case of murder was lodged in connection with the incident late on Monday evening."

Supporters of Ojha alleged that four days ago, he was attacked following a land dispute and had sought police help.

"However the Kotwali police failed to provide him adequate security resulting in the murder," Ojha's supporters said.

SP Basti district Rajesh Modak and SSP Surendra Bahadur were monitoring the situation.