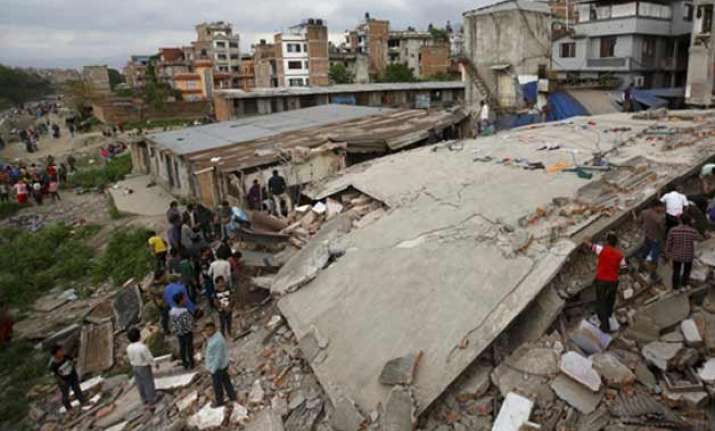 New Delhi: An assessment made by the Indian government has revealed that entire Himalayan region is vulnerable to high intensity earthquakes exceeding 8.0 on the Richter scale which could adversely affect millions of people.
Santosh Kumar, executive director of the Home Ministry's National Institute of Disaster Management (NIDM) said that India has fast-tracked its own disaster mitigation initiatives in the wake of Saturday's earthquake in Nepal which also affected people of North and East India.
Kumar said that four major earthquakes have occurred in the Himalayan region -- Shillong in 1897 (8.7 on Richter scale); Kangra in 1905 (8); Bihar-Nepal in 1934 (8.3) and Assam-Tibet in 1950 (8.6).
Based on scientific assessments, a paper by NIDM warned that 'very severed' earthquakes were likely to occur anytime in the Himalayan region. Whole of Northeast India and Northern states of Bihar, Uttarakhand, Himachal Pradesh, J&K, Gujarat and Andaman & Nicobar Islands are at high risk.
The NDMA had in 2013 said that over 8 lakh people may die if an earthquake measuring 8 on the Richter scale occurs in the seismically-active Himalayan states from Jammu and Kashmir to Arunachal Pradesh.
The government has now put greater emphasis on collecting data from the Indian Space Research Organization (ISRO), Geological Survey of India and other government departments to make timely predictions of natural disasters and initiate preventive measures and plan rescue operations.
The government had last month also revised its norms for financial assistance provided to disaster-affected people through the state and national disaster response funds. It increased compensation for deceased to Rs 4 lakh, effective from April 8.
The assessment paper said of the 36 states and Union Territories, 27 were disaster prone from phenomena such as earthquakes, floods, river erosion, cyclones, tsunamis, drought, landslides and avalanches. Almost 59% of the landmass is prone to earthquakes of moderate to very high intensity.
The high risk states are those which fall in the high seismic zone V. Some cities in these states have high density of population and face maximum risk of loss of lives and property.
The NIDM paper warned that 'constructions in these cities are predominantly not earthquake resistant, regulatory mechanisms are weak, thus any earthquake striking in one of these cities would turn into a major disaster'.
Though major initiatives were taken to make the structures capable of withstanding earthquake but according to experts, it has not been materialised yet.
80% of buildings in capital Delhi, which is located in seismic zone 4, are highly vulnerable to earthquakes.
"People have a short memory of disaster if they were not involved in it directly. There have been schemes to retrofit existing buildings to be able to withstand an earthquake but no action has been taken," said professor Mahesh Tandon, president of Indian Association of Structural Engineers.