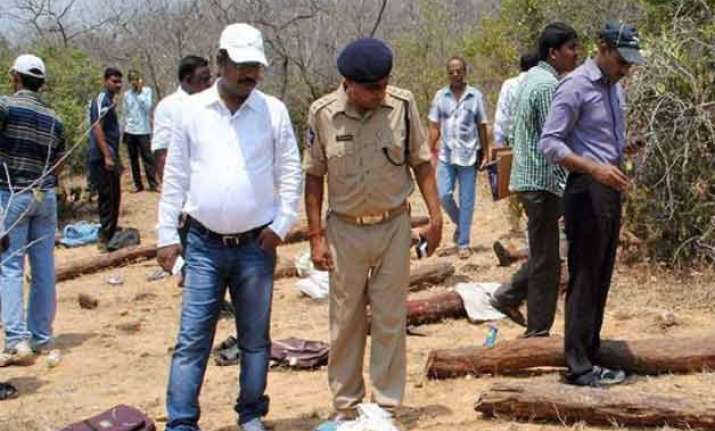 Hyderabad: The Hyderabad High Court today restrained Andhra Pradesh Police from divulging information to the media and others on the probe into the killing of twenty people in a police firing in Chittoor district on April 7.
A division bench, comprising Chief Justice Kalyan Jyoti Sengupta and Justice P V Sanjay Kumar, objected to certain statements of police officers defending the police action against the victims that they had made to the media and directed them not to make public any information regarding the investigation (of the incident) and subsequent events.
"The matter is sub-judice," the bench observed and restrained the police officials from divulging information publicly about the case, except before appropriate court.
Andhra Pradesh Civil Liberties Committee (APCLC) General Secretary C Chandrasekhar, had in a writ petition filed in the high court earlier, alleged that it was a case of "murder" and the victims were poor labourers from Tamil Nadu.
The petitioner's counsel, V Raghunath, told the high court that Muniyammal, wife of one of the deceased Sashi Kumar, had lodged a complaint with Chandragiri Police in Chittoor district with the specific allegation that "it was not an encounter death but was a well-planned and organised crime, committed by the STF police."
The bench wanted Additional Advocate General D Srinivas to ascertain whether any such complaint has been received by the Station House Officer (SHO) or not.
"Whether they (Chandragiri Police) have received any complaint or not and if received what action has been taken," the bench asked.
The bench, after going through the complaint of Muniyammal, added her as a party (as another petitioner) to the case and asked for issuing notices to her to inform her in this regard.
"She can engage a lawyer or free legal aid will be provided to her," the court said.
The court then posted the matter to April 15.
"It was a cold-blooded murder of 20 poor labourers from Tamil Nadu," APCLC had alleged and sought directions for registration of an FIR under IPC Section 302 (murder) against the policemen involved in the operation besides seeking a CBI probe.
Twenty people were gunned down in Seshachalam hill ranges of Chittoor district of Andhra Pradesh on April 7 in an operation by the police.