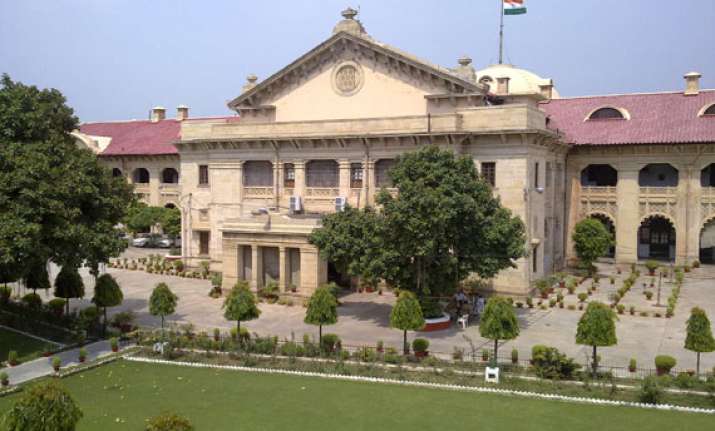 Lucknow: Allahabad High Court today sought report from UP Police and IB on the threat perception to the three judges who had decided the Ayodhya title suit and suggested additional CRPF security for them in the wake of SIMI activists escaping from a jail.
The Lucknow Bench, comprising Justice Devi Prasad Singh, gave the directions on a petition filed by a local lawyer Ranjana Agnihotri.
Agnihotri's counsel H S Jain told the court that some SIMI activists, who had done recce of Lucknow bench, have fled from Khandwa jail of Madhya Pradesh.
The counsel said that though Z category security has been provided to all the three judges, but it appears that under the changed circumstances, security measures should further be strengthened.
"After hearing the counsels at length and keeping in view the arguments advanced, we direct that the Additional Director General of Police (security) Uttar Pradesh will submit a fresh report under the changed circumstances with regard to threat perception to Justices S U Khan, Sudhir Agarwal and D V Sharma and the lawyers," the court said.
It ordered that the report should be submitted in a sealed cover, while directing the ADG (security) to appear on the next date of hearing along with record to assist the court.
The court also sought IB's reply. "We also direct the Intelligence Bureau to submit its report with regard to threat perception to the Judges and the lawyers under the changed circumstances," the court directed.
While submitting the report both the agencies should apprise the court with regard to nature of threat to all three judges and the advocates, the Judge said.
"These agencies should also suggest measures which may be taken up to cope up with possible future threat, if any," he said.
"We have also been informed that in Punjab and Haryana High Court CRPF personnels have been deployed for ensuring security to the Judges. We are not concerned with all the Judges but only three Judges who decided the Ramjanm Bhumi- Babri Masjid case," it observed.
"To cope with the imminent threat to their life, it shall be appropriate for Government of India to deploy CRPF at their respective residences as security measure which shall be subject to further order passed by this court," it said.