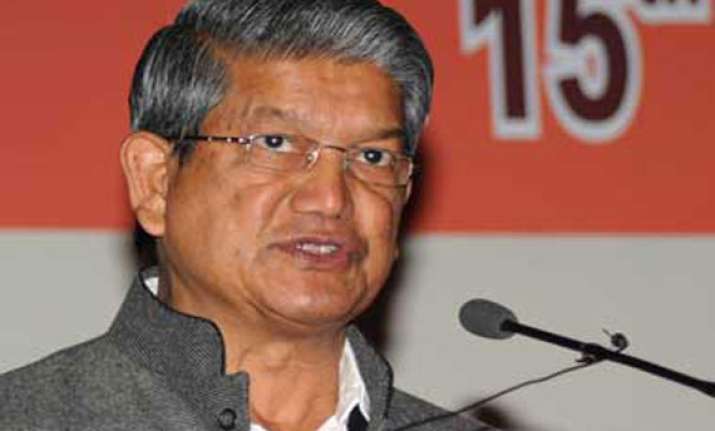 Dehradun: Harish Rawat, a Union Minister, has been sworn in as the new Chief Minister of Uttarakhand, succeeding Vijay Bahuguna who was asked by the Congress high command to step down in a bid to boost its prospects ahead of the April-May Lok Sabha polls.
65-year-old Rawat's name was approved by Congress president Sonia Gandhi who was authorised to name the Congress Legislature Party(CLP) leader after a one-line resolution was passed at its meeting here, senior party leader Janardhan Dwivedi told reporters here. Rawat is at present Union Cabinet Minister for Water Resources.
In the 70-member assembly, Congress has 33 members and has the support of seven-member PDF including three BSP, one UKD and three Independent MLAs. BJP has 30 MLAs.
The PDF, which has four ministers in the outgoing Bahuguna ministry, has pressed for additional ministerial berths in the new government.
"Soniaji gave her approval for Rawat's name. He has been elected CLP leader and will be sworn in Chief Minister along with some Cabinet ministers later today," Dwivedi said to loud cheers from supporters of Rawat after the five-hour-long CLP meeting.
Rawat pipped two other front runners for the top post -senior party leader Indira Hridayesh and member of Bahuguna's cabinet Pritam Singh.
Soon after being named the CLP leader, Rawat thanked all senior party leaders including Sonia Gandhi and those from the state including Indira Hridayesh, Vijay Bahuguna, Yashpal Arya and Pritam Singh for supporting him.
Spelling out his priorities, Rawat said it would be definitely to pull the state out of the fallout of the catastrophic flashfloods of June, 2013.
Besides Dwivedi, senior Congress leaders Ambika Soni and Ghulam Nabi Azad attended the CLP meet as central observers.
Bahuguna, who resigned yesterday, had come under criticism for the way he had handled the flood situation and relief and rescue work.
The swearing-in ceremony, originally scheduled to take place at 3:45 PM, was delayed with the CLP meeting stretching to a little over five hours and concluding finally at 5:15 pm.
Though some reports attributed the delay to insistence of the seven-member PDP on ministerial berths, Dwivedi said the delay was caused as it took time to hear from Gandhi who was on a tour of Karnataka.
The PDP, sharing power with the Congress in the state, comprises three each BSP and Independent MLAs and one UKD member.
Ever since Vijay Bahuguna quit as Chief Minister, Rawat's appointment as his successor was considered a near-certainty in political circles.
Some other names, including that of senior party leader Indira Hridayesh and member of Bahuguna's Cabinet Pritam Singh, also did the rounds but Rawat had an edge over them in terms of stature.
Earlier, Rawat arrived to a rousing reception by his supporters at the Dehradun railway station in the wee hours.
He headed straight to the residence of party MP Satpal Maharaj to take his blessings and then went to a hotel where a large number of his supporters gathered to garland him amid beating of drums and presentation of Kumaoni folk dances.
Senior Congress leaders Ambika Soni, Janaradhan Dwivedi and Ghulam Nabi Azad attended the CLP meet as central observers.