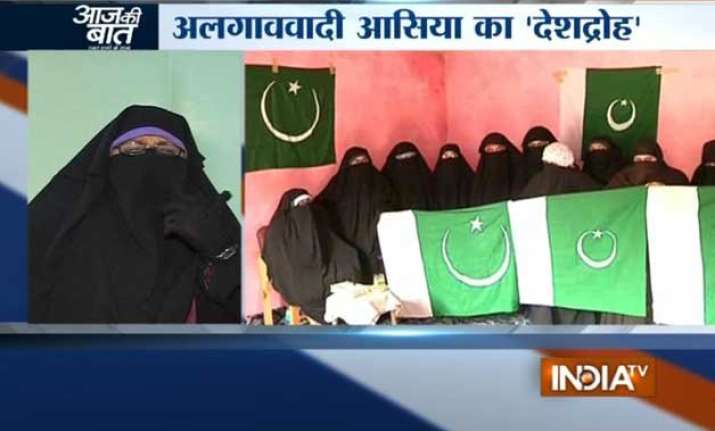 Srinagar: Separatist Kashmiri women group Dukhtaran-e- Millat hoisted Pakistan flag and sang Pakistan national anthem in Srinagar on the National day of Pakistan yesterday. The outfit is founded and headed by Syed Asiya Andrabi, a self-acclaimed Islamic feminist, who is married to a former militant commander Ashiq Hussain Faktoo.(scroll down for video)
A poem dedicated to Pakistan founder Muhammad Ali Jinnah was also recited at the event which was attended by members of the outfit. Dukhtaran-e- Millat is associated with separatist group Hurriyat and has been demanding the secession  of Kashmir from India.
Asiya was invited by Pakistan's High Commissioner to India Abdul Basit to attend the reception in New Delhi but refused and said that her presence was needed in Kashmir.
In an exclusive interview with India TV, Asiya said that she has been celebrating 23rd March and 14th August (Pakistan Independence Day) for the last 35 years.  
Andrabi also hit out at Jammu and Kashmir Chief Minister Mufti Mohammad Sayeed and said, "Mufti does not have anything in his own hands, he is a stooge in RSS and BJP's hands. What CM are you talking about? A single star CRPF personal has more power than CM in Kashmir."
She said, "I do not believe in Modi. We've always been deceived by India. If PM Modi and PM Sharif (Pakistan Prime Minister Nawaz Sharif) want to solve Kashmir issue in accordance with the aspiratiopns of the people of Kashmir, why would we oppose them?"
She asked for a permanent solution of Kashmir issue, "Right of self-determination should be given to people of Kashmir. There will be peace in India, in Kashmir and in entire South Asia if Kashmir issue is solved."