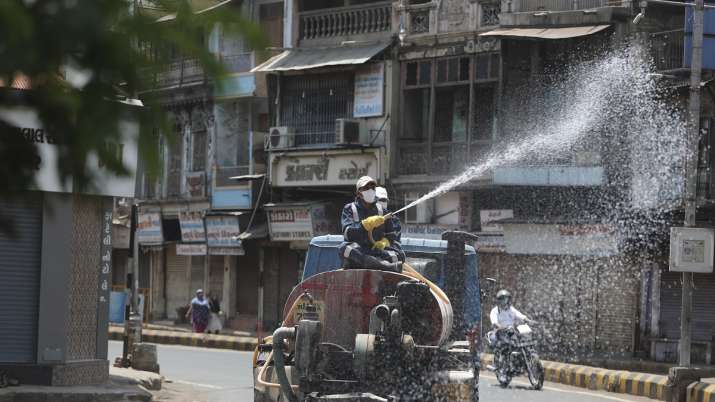 Fifty-five new cases of coronavirus have been found in Gujarat taking the total number of confirmed COVID-19 cases in the state to 241. Out of 55 new cases, 50 have been reported from Ahmedabad. As per officials, the sudden rise in the coronavirus cases has come after mass COVID-19 testing was done in the state. Meanwhile, India total coronavirus cases have surged to 5,734 including 166 deaths while 473 people recovered from the disease.
In the meanwhile, due to the mass testing in Ahmedabad, 50 new cases have surfaced in the Gujarat capital. In the last five days, 57 people were tested for coronavirus in Ahmedabad on April 4, 166 on April 5, 408 on April 6, 638 on April 7 and 840 on April 8, as a result of which, 50 more coronavirus cases have emerged in the city. Authorities said this aggressive testing strategy has been adopted now which will help in detecting suspected COVID-19 cases. 
गुजरात मे #कोरोना के 55 नए केस के साथ कुल आंकड़ा पहुंच 241 पर ।
अहमदाबाद ने 50 नए केस।
मास टेस्टिंग के वजह से सामने आए नए मामले। पिछले 5 दिनों से अहमदाबाद में एग्रेसिव टेस्टिंग, कलेक्ट किये गए हैं 2100 से ज्यादा सैम्पल। @indiatvnews #lockdownextension @GujHFWDept @AmdavadAMC

— Nirnay Kapoor (@nirnaykapoor) April 9, 2020
ALSO READ | India COVID-19 cases reach 5734; 166 deaths so far. Maharashtra, TN worst hit. Check state-wise break-up
ALSO READ | We shall win this together: Modi's welcome note to Trump's Thank You!