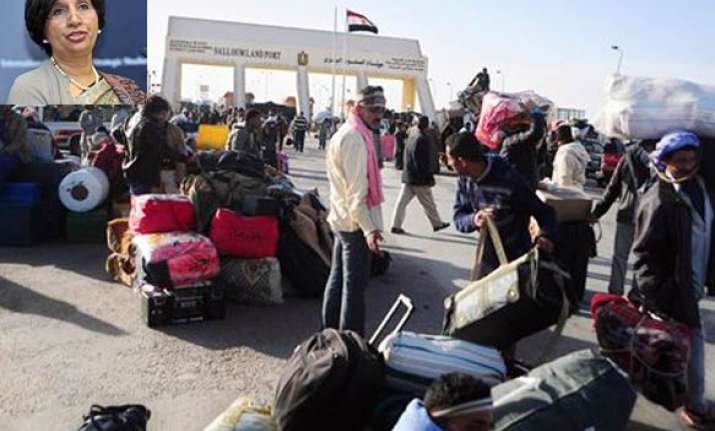 New Delhi, Feb 22: India today decided to evacuate its nationals from strife-torn Libya numbering about 18,000 and is finalising arrangements to bring them back home by air and sea.
"Arrangements for air and sea evacuation of our nationals from Libya are being finalised," Foreign Secretary Nirupama Rao said, as the crackdown against anti-government protests in the oil-rich north African nation turned bloodier. 
Rao, along with other top officials from other ministries concerned, held a meeting to work out the logistics of the evacuation process which has already got a nod from the political leadership, sources told PTI. 
The sources said External Affairs Minister S M Krishna has been briefing Prime Minister Manmohan Singh about all the contingency plans to ensure safety and security of Indians in Libya. 
According to reports, more than 300 people have been killed so far in the brutal crackdown against protesters demanding an end to Muammar Gadhafi's 41-year rule in Libya. 
The government has already sought permission to land its planes for the evacuation process, sources said. 
The magnitude of the evacuation process also depends upon on how many out of the 18,000 people would like to return to India, they said. 
The death of an Indian national from Tamil Nadu in Libya meanwhile gave some anxious moments to authorities here but it turned out he died in a road accident and not in firing during the violence as claimed by the family of the deceased Murugaiah. 
An External Affairs Ministry spokesman said that according to the Indian Embassy in Tripoli, a group comprising three Indians and two Egyptians were trying to cross over to Egypt by car from Tobruk (a city in north-eastern Libya) on night of February 19 when their car was involved in a head on collision. The three Indians suffered serious injuries. 
"They were admitted to Al Vatnam Medical Centre in Tobruk. A number of Indian nurses are now also working at the Centre. Murugaiah reportedly succumbed to his injuries        yesterday. The other Indian nationals are still in the hospital and recuperating. The Mission is in regular touch with the Medical Centre," he said. 
"As such, the story of Murugaiah's death being the result of firing appears to be incorrect," he said. 
Claiming that her husband, Murugaiah, a contract worker employed with a Korean company, has been killed and another seriously injured in gunfire, Vellathai, along with local panchayat chief, presented a petition to Tirunelvelli District Collector in Tamil Nadu. 
Vellathai sought steps by government to locate and retrieve her husband's body and arrange for bringing it back to their village. 
Indian Ambassador to Libya M Manimekalai said the Embassy has informed the MEA about the "background" of the case that it was not a bomb blast but he was killed in an accident. 
Official sources said about 200 Indian nurses are working at the Bengagi Medical Centre in Libya and all of them are safe and performing their normal duties. 
"The Embassy is in touch with them," the sources said. PTI