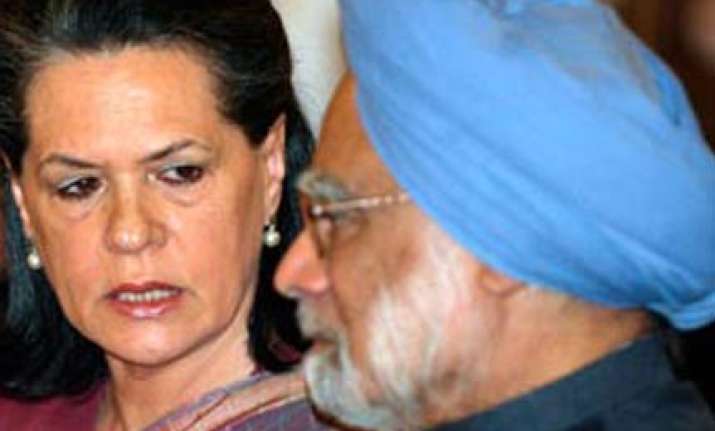 With allies ruling out rocking the UPA coalition on the issue of fuel price hike, the Congress and the government on Tuesday breathed easy even as opposition parties appeared determined to corner the government in Parliament for a roll back.
 Top Congress leadership including Prime Minister Manmohan Singh and party chief Sonia Gandhi on Tuesday night grappled with the ticklish issue amid indications that the government has kept all its options open.  
The refrain in Congress was that it was running a coalition, a point being interpreted as ruling party's readiness to accommodate the concerns especially of the allies.
 Earlier in the day both Trinamool Congress and DMK said they were not pulling out of the government and creating any problems for it but were only reflecting the concerns of the common man on the issue of price rise.
 Finance Minister Pranab Mukherjee will brief Congress MPs on the union budget ahead of the CPP meeting on Thursday in which party chief Sonia Gandhi is to break her silence on the issue.  
"You will have a fully satisfactory resolution in near future.  A solution which satisfactorily settles the issue within the government and the party will be arrived at. As of now things stand where they are," party spokesperson Abhishek Singhvi said.
Congress leaders have made it known that the party would talk to allies over the issue.
The meeting of the Congress Core Group came a day ahead of Parliament resuming its sitting after a four-day break amid indications that hike in fuel prices is expected to generate heat.
Opposition parties are planning a series of meetings tomorrow to strategise its protests and demand rollback in the Lok Sabha and the Rajya Sabha.
The Left parties will have a separate meeting followed by those with other secular parties, while the BJP and its allies in the NDA will hold separate talks to decide how to go about to press their common cause.
Leaders like RJD chief Lalu Prasad and SP chief Mulayam Singh Yadav have declared that the entire opposition was together on the demand for rollback and would not allow Parliament to function till the demand was met.
The parleys between opposition leaders assume significance against the backdrop of Prime Minister Manmohan Singh ruling out any rollback, saying the economy has the capacity to absorb the increase without triggering inflationary pressure.
Incidentally, RJD, SP and BSP, opposing the hike are outside supporters of the ruling UPA without whose 47-member strong prop the Congress-led coalition could be walking on thin ice if the issue precipitates.
AIADMK leader in Rajya Sabha V Maitreyan said that his party would give a notice to the Chair tomorrow demanding suspension of question hour to take up issue of petrol and diesel price hike. PTI