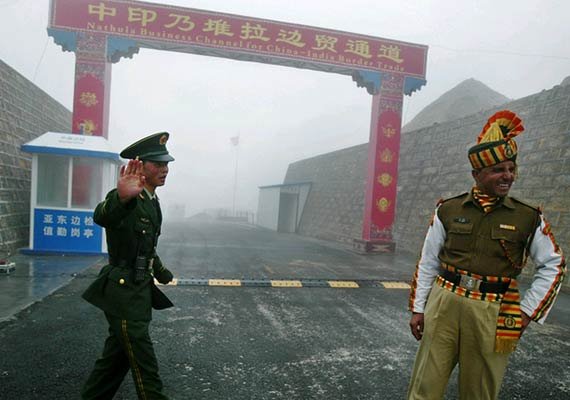 Greater Noida: Unfazed by China's objections to development of border areas, Government today announced setting up of 54 new border outposts and a Rs 175 crore package for beefing up the infrastructure along the border in Arunachal Pradesh.
The announcement was made by Union Home Minister Rajnath Singh even as he made it clear that India wanted to solve the border dispute with China through dialogue, asserting "peace with honour" was most important requirement for building good friendly relations with that country and other neighbours.
"Today when I talk about the border, be it with Pakistan or China, I feel pained and anguished over reports of ceasefire violations by Pakistan or incursions by Chinese troops," he said at the 53rd raising day function of the Indo-Tibetan Border Police (ITBP) here, which guards the 3,488 km long border from Ladakh to Arunachal Pradesh.
"Humlog shanti chahte hai samman ki saath. Asamman ke saath shanti nahi ho sakti (We want peace with honour. Peace cannot come at the cost of honour," he said, referring to the recent border row with China.
"Pride is the ultimate accomplishment of a human being, of mine and yours," he added.
On development of areas bordering China, the Home Minister said the Government has started working on a plan for setting up of 54 border outposts(BoPs) for ITBP and also a Rs 175 crore package for building infrastructure along the border in Arunachal Pradesh.
All these posts will be set up in Arunachal Pradesh where there were large gaps at the Line of Actual Control(LAC). China has been objecting to any development of infrastructure along the LAC and setting up of border outposts leading to instances of stand-offs with India including during the visit of Chinese President Xi Jinping to this country in September this year.
Singh also referred to Prime Minister Narendra Modi making it clear that India wants to maintain peaceful relations with all its neighbouring countries. "Our Prime Minister has told the Chinese President that if there is a dispute we should talk," he said.
"India wants to keep friendly relations with our neighbours whether it is China or Pakistan. We believe in the philosophy of 'Vasudaiva  Kutumbakam' which means the world is one family and India has told the world about it," he added.
Singh also said the Government was looking into the demand for a dedicated air support for the ITBP personnel.