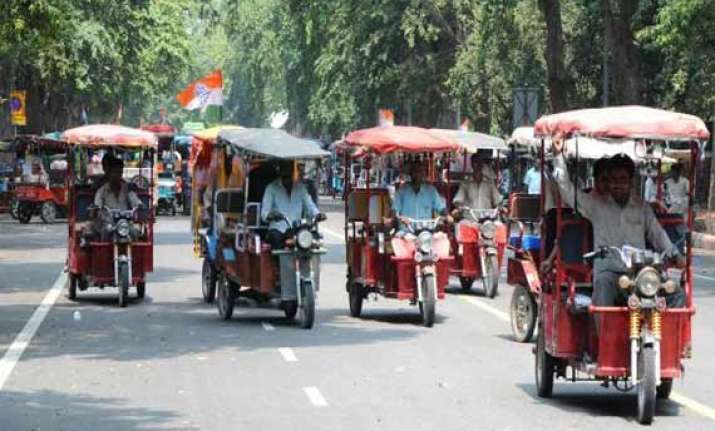 New Delhi: E-rickshaws can now officially ply on city roads as the government today recognised them as special category three-wheeled vehicles with a maximum speed of 25 kilometre per hour.
The Delhi High Court had put a ban on plying of e-rickshaws due to safety issues.
The Ministry of Road Transport and Highways today notified that 'E-rickshaw means a special purpose battery operated vehicle having three wheels and intended to provide last mile connectivity for transport of passengers.
The government said that such vehicle is constructed or adapted to carry not more than four passengers, excluding the driver, and not more than forty kg luggage in total.
The netpower of its motor is not more than 2,000 watts and the maximum speed of the vehicle is not more than 25 km per hour.
Every driving licence issued or renewed by a licensing authority to drive an e-rickshaw shall be valid for a period of not more than three years from the date of issue, as the case may be, or till the validity of the driving licence, whichever is earlier.
The court had on July 31 banned plying of e-rickshaws on the roads of the national capital saying "prima facie they are a hazard to other traffic as well as citizens."
A High Court bench had left it to Parliament and the Centre to decide what legislative changes need to be introduced to regulate the plying of e-rickshaws.
Road Transport Minister Nitin Gadkari had said that his ministry was working towards addressing the safety concerns as far as the vehicle is concerned and will take necessary steps to bring their plying lawful with necessary modifications in rules and law.
The minister had said that thousands of poor people were deprived of their livelihood due to ban on e-rickshaw.